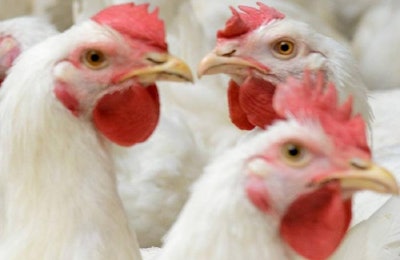 Tyson Foods will eliminate the use of all antibiotics from its chicken carrying the Tyson brand sold at retail in June.
The announcement was made February 21 during the Consumer Analyst Group of New York (CAGNY) conference.
"This means that Tyson will sell more, will feed more people with more no antibiotics ever chicken than any other company in the world," Sally Grimes, Tyson Foods chief global growth officer, said at the conference.
The move follows a 2015 announcement that Tyson would eliminate the use of antibiotics also used in human medicine from its U.S. broiler chicken flocks. It stated at the time that it would complete the transition by September 2017.
'A learning process'
Noel White, chief operations officer for Tyson Foods, said the company has been considering the move away from antibiotic use for several years.
"It's a process that we've been working on actually for quite some time," said White. "We declared a year ago that we would eliminate the use of human use antibiotics by this fall, and we're ahead of schedule in doing that. We will be completely free of antibiotics in the Tyson brand by then. …
"It's been a learning process over the last couple of years. There's not one singular thing that contributes to allowing us to do this. It's a multitude of actions that we take that allow us to move to antibiotic-free."
White added that there once was a major cost involved in raising chickens without antibiotics, but that cost has decreased in recent months, better enabling Tyson Foods to make the move.
Sick chickens will still be treated
If a chicken does become ill, Tyson Foods will make sure they are treated, White said.
"That's the reason you haven't heard us say that everything will be 100 percent antibiotic free," said White.
But there are "actually very small numbers" of chickens that do get sick, he added.
However, with antibiotic-free treatment options are available, and White said Tyson Foods will continue to work down the path of 100 percent antibiotic-free chicken production.
Comprehensive resource for antibiotic-free poultry production available
A new collection of exclusive articles, blogs, infographics and videos on antibiotic-free poultry production, by trusted WATT Global Media editors and industry experts, equip poultry producers and marketers with information to help them make critical business decisions. Purchase your copy.