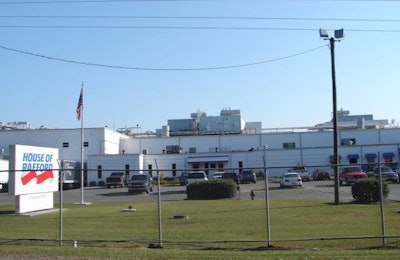 Demolition of the House of Raeford Farms poultry plant that was badly damaged in a February 25 fire is set to begin on April 3, a spokesperson for the company said.
The poultry plant, located in Teachey, North Carolina, was consumed by a fire, that investigators determined started accidentally in an office in the second floor of the building.
The company reassured employees of the plant, known as House of Raeford's "Wallace plant," that they would rebuild. However, the company stated that it does not "have any details on when the actual rebuild will begin. The exact details on where the reconstructed plant will be located have not been finalized. When asked about the future site, the company responded "if not exactly on the same footprint, the plant will be built very close."
No employees at the plant were injured, but one first responder received injuries, according to earlier statements from House of Raeford. Workers at the time were advised not to report to work and that they would continue to be paid until further notice. Some employees were reassigned to work at House of Raeford's facility in Rose Hill, North Carolina.
More than 30 emergency agencies responded to the fire. A list of those agencies appears on the House of Raeford Farms webpage, along with a message of thanks to them.
House of Raeford Farms, according to the WATTAgNet Top Poultry Companies Database, is the ninth largest broiler company in the United States, having processed 27.35 million pounds of ready-to-cook chicken on a weekly basis in 2016. The company's brands are House of Raeford Farms and Columbia Farms.