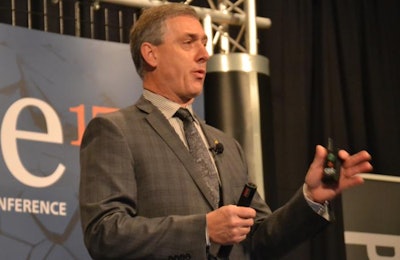 In order to feed a growing world population, the pig industry must make sure that piglets at weaning are getting the best starter diet possible, said Paul Groenewegen, sales and nutrition manger, Alltech Canada.
Groenewegen, while speaking on May 25 at ONE17, The Alltech Ideas Conference, said that as the key way to maximize quality pork production is to save one piglet per litter at a time. Since weaning is a highly stressful time for piglets, a producers should do all they can to assure that a high quality feed is made available to those piglets.
A proper diet is also vital because farmers are not just raising pigs, Groenewegen said. They are also raising pork. And the pork needs to be of a high quality. By using ideal and innovative feeds, a better pork product can be achieved, he said.
According to Pickard, there are four basic requirements for piglet starter feeds. Those are:
Make sure that the feed meets the nutritional requirements of the pig
Assure that the feed is highly palatable and digestible
The piglet diets should contain bioactive components, such as lactoferrin, mannan-oligosaccharide (MOS), nucleotides and immunoglobulins
The feed needs to contain high quality ingredients that ensure the piglets have a good appetite, offer enhanced nutrient digestion and absorption, promote optimal gut health and integrity, and promote optimal performance and economic return.