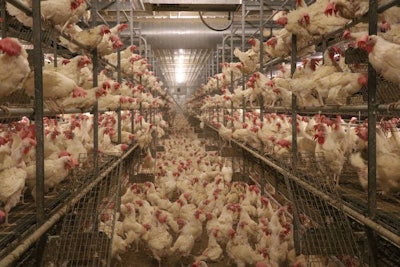 Smart sensing technology could provide earlier detection of red mites on layer farms, helping to prevent infestations, improve welfare and increase overall productivity.
"Our technology is based on anomaly detection," Izak Shoshana, CEO, YieldX, said. "Red mites can do a lot of damage in layer houses."
Red mite infestations are a major animal welfare and economic issue for the poultry industry, particularly among egg-producers. More than 80% of European poultry farms are infested with poultry red mites. Infestations are more likely in cage-free environments.
Birds exposed to red mites display increased feather-pecking, restlessness, irritation and even aggression towards other chickens. Red mites also act as disease vectors for Newcastle disease viruses. In humans, red mites can cause itchiness and dermatitis.
Red mites are typically controlled through insecticides or traps. However, both require manual monitoring.
How red mite anomalies are detected
"We create a baseline of how the environment smells when everything is okay, there is no disease and there are no red mites," Shoshana explained.
The sensor technology uses artificial intelligence and machine learning to continuously identify changes in environmental factors associated with red mite populations. When an anomaly is detected, the sensor sends an automated notification alert.
The device, approximately the size of a cell phone, can charge on a wireless phone charger. Because of its small size, multiple sensors can be placed throughout a layer barn, giving layer producers a more accurate picture of where potential infestations are occurring.
Earlier detection enables producers to enact preventative biosecurity measures to reduce the density of a red mite population. This saves on medication and lowers production costs.
"There is a lot of environmental, financial and production damage that we save here," he added. "With early detection, you can make sure that you stop production losses and you can avoid the really expensive treatments."