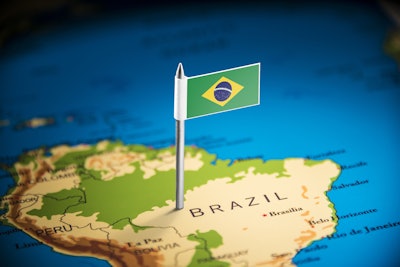 butenkow | BigStock.com
Novus International Inc. has moved its Latin America headquarters to Brazil to better meet the needs of local representatives and customers in the poultry and swine industries.
"Our team in Brazil and throughout Latin America has called the Sky Towers in Indaiatuba our home base since 2018," said Alessandro Lima, senior regional business manager for Novus in Brazil. "We were fortunate to find a space in our current building that better suits our needs and allows us to continue serving our customers in a permanent environment."
The purpose of the move is to support the hybrid work model that the company embraced during the height of the pandemic, allowing Novus colleagues greater autonomy to do their best work from wherever they are most effective. This change also supports Novus' new branding initiative that launched in June. The company updated its mission, vision and values with an emphasis on customer focus, celebrating teamwork and empowering employees to embrace agility and innovation.
The new location has hot desks, meeting spaces, areas for collaboration, and flexible work areas that are available 24 hours a day, seven days a week. Three conference rooms provide plenty of space for Novus to meet with customers about their poultry or swine operations.
"We investigated moving to another area of Brazil but decided Indaiatuba, with its restaurants and hotels, and the proximity to Campinas with its many attractions, Viracopos International Airport, and the city of São Paulo, really has all the amenities we want for our employees and our customers," said Augusto Araujo, Novus senior procurement and facilities coordinator for Latin America.
For many industries, the pandemic highlighted the ability of a workforce to perform well remotely, removing the necessity of a physical office location. Araujo said the decision to keep a physical headquarters location in Brazil exemplifies the company's commitment to the animal agriculture industry throughout Latin America.
"Having an office location shows our investment in the region, both in Brazil and Latin America," he said. "We are showing our reliability to our customers and suppliers, in addition to providing a pleasant place to receive them where we can focus our attention on helping them address animal health, well-being, and performance through intelligent nutrition."
The new office is located at Avenida Presidente Vargas, 2921, 14th floor, suite 1401 in Indaiatuba, State of São Paulo. The move does not affect phone numbers or email addresses associated with the Novus team in Brazil.