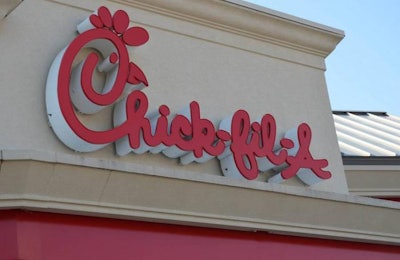 Footage showing behind-the-scenes footage of how Chick-fil-A's chicken nuggets are made went viral on social media platform TikTok this week.
The video, which generated more than 13 million views, was posted by the account dxxdxx7, who claims to be an employee of the popular quick service restaurant known for chicken.
It shows the gloved hands of an employee showing a raw chicken breast to the camera before dipping it in a milk wash. Then, the chicken gets dipped into a "seasoned coater," a mix of flour and seasoning, before being sifted and deep-fried in oil.
The comments on the video were overwhelmingly positive, praising the straightforward cooking process.
"Real chicken? Big flex," one commenter joked on TikTok.
Another wrote: "Honestly I was scared to watch this because these nuggets are life!! But I am so relieved they are actually made from scratch!"
The video has since been removed from the popular social media site, however dxxdxx7 promises to post additional behind-the-scenes content in the future. TikTok is a social network for sharing user-generated videos covering a wide range of topics and styles.
The value of a viral moment
Viral moments are increasingly becoming a way for brands to drive sales and attract new customers.
For example, consumers were captivated last year when rival quick service restaurant chains Chick-fil-A and Popeyes battled for fried chicken sandwich supremacy. The resulting Twitter feud generated major buzz and the Popeyes sandwich sold out in less than two weeks. When the brand relaunched its sandwich in November, sales increased by more than 34% that quarter.
"If you try to be funny and weird and embrace a new TikTok dance or whatever, you're going to swing and miss a lot of times, but in all likelihood, the negative impact of that on your business is negligible. People aren't going to stop buying your product because you made a lame attempt at a TikTok video," Steve Lerch, an expert in internet marketing and President of Story Arc Consulting told WATTPoultry earlier this year. "But if you get it right, now you're a part of this viral trend and the positive impact is huge."
Like what you just read? Sign up now for free to receive the Poultry Future Newsletter