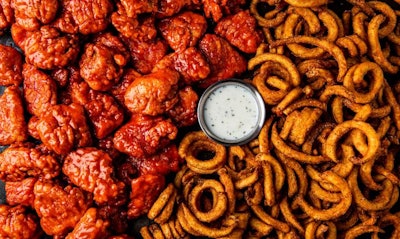 A growing number of chicken foodservice operators – searching for ways to meet growing demand for takeout and delivery during the pandemic – have opened virtual brands.
Brinker International, the parent company of Chili's and Maggiano's, opened It's Just Wings.
Launched in June 2020, menu items from It's Just Wings are prepared in the kitchens of 1,000 company-operated Chili's and Maggiano's but can only be ordered through DoorDash. The virtual brand sells boneless and smoked and traditional bone-in wings smothered in a choice of 11 sauces, such as truffle hot sauce and ponzo sauce. Every order also includes free curly fries.
"We've built everything around the killer wings/stupid prices approach, which just kind of represents that we provide a really good value and a really good product," Wade Allen, SVP Head of Innovation, Brinker International, said.
Optimized for delivery
Virtual brands operate within actual restaurants, but cook food that may be sold under a different name on third-party delivery platforms, like DoorDash, Uber Eats or Grubhub.
In a sense, virtual brands help restaurants optimize search engine optimization, or SEO, online. Consumers ordering food delivery tend to search for a particular menu item, like wings or Chinese food, rather than by a restaurant name.
"I think the best term I've heard is a host kitchen. Basically, in a host kitchen setting, we have another brand that is operating or sharing that kitchen. So rather than pass on the expenses to you, the consumer, that is usually wrapped up in rent and labor and kitchen costs and taxes and everything else, we're able to leverage an infrastructure, i.e., that kitchen, and deliver you a great product out of that kitchen," Allen explained.
It's Just Wings was a huge success in its first year, generating $3 million in weekly sales and could be worth more than $150 million in the first year.
"There's been a lot of rhetoric in this space that virtual brands aren't real brands," Allen said. "What I would tell you is that this is absolutely a real brand with diehard fans and followers. We have the utmost commitment to grow this brand to a very large position in the market."
View our continuing coverage of the novel coronavirus (COVID-19) pandemic.
Like what you just read? Sign up now for free to receive the Poultry Future Newsletter.