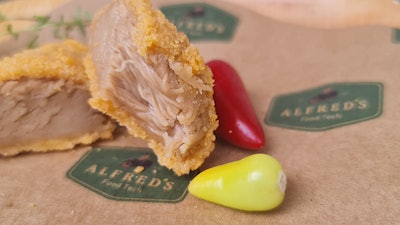 The biggest challenge associated with developing a whole-cut meat alternative is mimicking the texture, taste and mouthfeel of animal proteins.
"Today, almost all of plant-based products are a 'mix' of ingredients, which means they cannot create one whole piece and have a grounded mouthfeel," explained Ronny Reinberg, CEO and co-founder of Alfred's FoodTech.
"The difference between the two is in the mouthfeel of a whole-cut. When you take a bite, you feel like you are cutting through layers, and in each layer, there is the juiciness that has the flavor. In a nutshell, the 'bite' is much more 'exciting' to the tongue and the flavor is released gradually.
Mouthfeel and flavor
Although meat alternatives are typically viewed as healthier than animal products, some dieticians have pointed out that the amounts of sodium and saturated fat found in plant-based burgers are the same as those made of beef. Meat alternative manufacturers must now seek a balance between minimal ingredients, high protein, sustainability and cost-effectiveness.
Current manufacturers typically rely on extrusion and 3D printing to bind ingredients into the desired forms, although novel fermentation and scaffold technologies are also becoming popular. Whole-cut texturization technology can be easily integrated into these existing approaches.
"In essence, we create an emulsion containing all the raw ingredients and bind them together in a way that masks the sandiness and aroma of proteins and creates a continuous like structure," Reinberg said.
"The holy grail of the alternative protein industry is creating a whole cut with animal-like flavors. The best way to reach that target is by incorporating animal cells or novel proteins that have the quality of imitating the animal products flavor perfectly."
Alfred's FoodTech formed earlier this year, raising US$1.3 million in seeding funding. The company plans to enter its next A-round stage shortly and is in discussion with meat producers, cultured meat companies and other international food companies.
The plant-based foods market is set to make up 7.7% of the global protein market by 2030, with a value of $162 billion, according to a recent report from Bloomberg Intelligence. Plant-based chicken alternatives are especially primed for significant growth in the next 12-18 months, with innovation toward products that more closely resemble whole cuts expected.
Like what you just read? Sign up now for free to receive the Poultry Future Newsletter