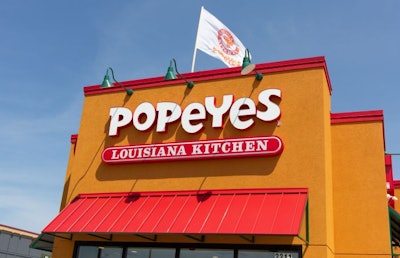 In 2019, quick service brands battled for fried chicken supremacy, capturing consumer attention throughout the country. The so-called Chicken Sandwich Wars led to a preference for little chickens, whose quarter-pound breasts fit nicely in a bun.
Chicken Sandwich Wars
The August 12 launch of the fried chicken sandwich from quick service restaurant Popeyes Louisiana Chicken nearly went unnoticed. That is — until seven days later — when rival restaurant Chick-fil-A sent out a tweet reminding customers that their own sandwich was "the original chicken sandwich."
The resulting Twitter feud generated major buzz, garnering rave reviews for the Popeyes sandwich which sold out in less than two weeks. When the brand relaunched its sandwich in November, sales grew more than 34% that quarter.
McDonald's, one of the biggest restaurant chains in the world, wants in on the action, calling a new chicken sandwich a top priority. The brand is currently testing a chicken sandwich containing the controversial ingredient MSG.
Changing preference for bird size
Over the past 100 years, broiler size has been going up. Today's varieties average 6 pounds, more than double the 2.5 pounds seen in 1925. The larger size is ideal for cut-down offerings like chicken tenders and boneless wings.
That could be changing. In the fall and summer of 2019, the breasts from broilers that were 4.25 pounds or less sold for triple the costs of those from nine pounders.
Why is this happening?
Quick service restaurants want smaller birds, experts say. Larger portions cost more in labor to cut up, whereas the breasts of birds smaller than 4.5 pounds are the right size for sandwiches.
Reportedly, a shortage of chickens with quarter-pounds breasts explains why Popeyes Louisiana Chicken sold out of their popular fried chicken sandwich so quickly in the summer of 2019.
"Consumers don't want tough and tasteless big chickens," Scott Sechler, the owner of poultry producer Bell & Evans, told Bloomberg. He sees "increasing consumer demand for smaller, premium-quality birds."
Like what you just read? Sign up now for free to receive the Poultry Future Newsletter.