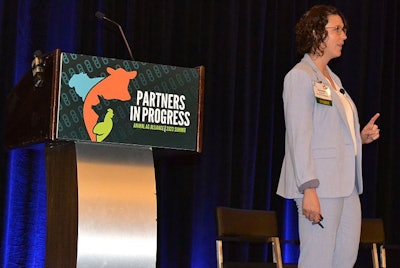 Food consumers tend to trust farmers to do the right thing, but they are often skeptical of agrifood companies, even if the two have common values.
Danielle Cummings, senior intelligence analyst, Aimpoint Research, spoke about connecting with consumers during her talk, "Connecting from the Farm Gate to the Dinner Plate: Understanding the NextGen Consumer," held as part of the 2023 Animal Agriculture Alliance Stakeholders Summit on May 4 in Arlington, Virginia.
During Cummings' presentation, one summit attendee pointed out that it is the food company that is forward facing or has an identity with the consumer. Cummings was asked if it would be a better use of promotional and educational efforts to build more trust between the consumer and the food company, or to use those resources to "bring the farmer forward."
"The data is showing we need to push the farmer forward," said Cummings.
Educational efforts definitely need to put a focus on the "person actually producing your food," she said. They want to know more about the person who is getting his hands dirty to bring food to the table, and the ones who work directly with the animals.
It makes the consumers feel good about their food to have such a connection with the producers, said Cummings.
But the industry should also take advantage of any opportunity to collaborate and build on a trust triangle between the farmer, agrifood company and the consumers. In doing so, the industry can show that there are many shared values between the three parties.