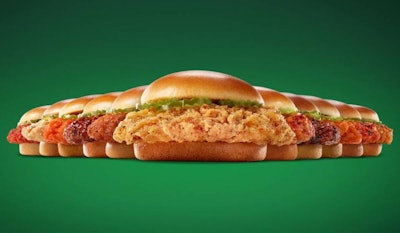 A popular chicken sandwich and an increased focus on ad spots during sport events propelled Wingstop to a 20.1% increase in same-store sales during the first quarter ending April 1, company president and CEO Michael Skipworth said during a call with investors.
"[The chicken sandwiches] have proven to be a powerful enabler for building awareness, increasing frequency and winning new occasions," Skipworth said. "Chicken sandwiches give us an opportunity to deliver our Wingstop flavor in a category that has upwards of 2.8 billion servings annually."
Wingstop launched the chicken sandwich in August 2022 following successful tests earlier that year in Columbus, Ohio, Fresno, California, Las Vegas, Nevada and Orlando, Florida.
It features a cooked-to-order, hand sauced-and-tossed chicken breast dipped in a choice of 12 flavors and topped with a toasted bun and crunchy pickles.
Next phase of growth: Live sports
Wingstop also increased their advertising fund and spend, which led to an increased presence on social streaming, digital channels and NBA and NFL games, including March Madness.
"As we looked at our media placement and media strategy for television, we felt the most eyeballs were going to be in live sports, and so that is where our TV buy has been focused," Skipworth explained.
The brand also moved to a new creative agency, 72andSunny, this quarter.
"We are making great progress on closing our gap in awareness to other national brands, but there remains a significant opportunity ahead as we look to deliver our 20th consecutive year of same-store sales growth and sustain same-store sales growth over the long term," he said, adding that "we feel 72andSunny can propel the Wingstop brand into our next phase of growth and help make Wingstop a household name."
What's driving growth at your chicken brand?
Do you work with a retail, foodservice, direct-to-consumer or producer/integrator who did a fantastic job of promoting chicken consumption in 2022? Nominate them for the Chicken Marketer of the Year award! This award recognizes excellence in marketing and public relations campaigns — whether print, digital, video, audio or integrated across multiple channels — in keeping chicken as the protein on the center of the plate.
The deadline to nominate a company or organization for Chicken Marketer of the Year is now May 12.
To submit your free nomination, visit https://www.wattglobalmedia.com/chickenmarketingsummit/chicken-marketer-of-the-year.
Attend the 2023 Chicken Marketing Summit
The 2023 Chicken Marketing Summit will be held at Hotel Effie Sandestin in Miramar Beach, Florida on Monday, July 31 – Wednesday, August 2, 2023. Serving a unique cross section of the chicken supply chain, Chicken Marketing Summit explores issues and trends in food marketing and consumer chicken consumption patterns and purchasing behavior.
DEADLINE EXTENDED: Submit your free nomination for Chicken Marketer of the Year.
For more information and to attend, visit: www.wattglobalmedia.com/chickenmarketingsummit/.