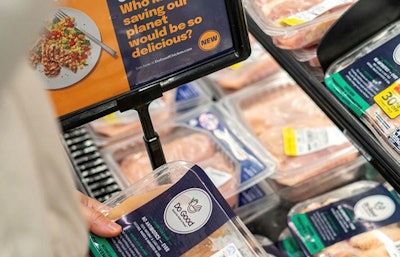 A closed loop system that recycles organic waste into chicken feed could help retailers meet sustainability goals.
"We collect the surplus grocery food after any human groceries can occur because that's the first and best usage of that food. The next best usage based on the Environmental Protection Agency's (EPA) food hierarchy is to upcycle it into our chicken feed," Justin Kamine, co-CEO and co-founder of Do Good Foods, explained.
Do Good Chicken is fed a diet made from upcycled surplus food from grocery stores. Each chicken product prevents four pounds of food waste from being sent to a landfill and avoids the generation of approximately three pounds of greenhouse gases, the company said.
In addition to its carbon reduced chicken, the company also sells carbon reduced eggs.
The push for sustainability improvements
Sustainability plays a critical role in consumer decisions about what type of meat and poultry to purchase.
"As a part of Wakefern's 80 year history, it's always been about taking care of where were, where we did business and being a good neighbor," said Jim Dorey, president and COO of Inserra Supermarkets, a member of Wakefern Food Corporation
"We're embedded in the communities where we have our stores and where we serve. There are so many issues that come to mind, but certainly sustainability has been strong across the board."
A closed loop
Do Good Foods provides local retailers – like Inserra – with designated cooler bins for food waste, reducing the amount of trash in landfills. These bins are picked up weekly and converted into chicken feed.
The first Do Good Foods production facility, located in Fairless Hills, Pennsylvania, can convert 60,000 tons of surplus food each year, which could feed 25 million chickens. A second animal feed production facility is set to open in Fort Wayne, Indiana, by the end of 2024. The company hopes to additional facilities throughout the U.S. in the future.
"It's really about embracing this whole local presence in that closed loop system, where it's no different than when we all used to grow up on the farm and take our leftovers to feed our chickens and livestock out back," Kamine added.