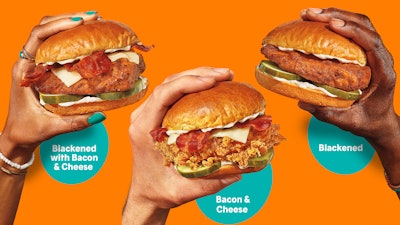 (Popeyes Louisiana Kitchen)
Popeyes Louisiana Kitchen introduced a bacon and Havarti cheese add-on to any of their chicken sandwiches for $1.50, including the now-permanent Blackened Chicken Sandwich.
"As we expand our iconic Chicken Sandwich line-up, the Blackened Chicken Sandwich will provide guests with a lighter option that is perfect for everyday," said Sami Siddiqui, president of Popeyes. "And, with the addition of bacon and cheese, our loyal fans will now have six Chicken Sandwich options to choose from, all with the irresistible Cajun flavors and boldness they crave."
The Blackened Chicken Sandwich, available in both classic and spicy, is similar to the quick service chain's Blackened Chicken Tenders. It features a non-breaded chicken breast slathered in seasoning and served with mayonnaise and pickles on a brioche bun and retails for $4.99.
Popeyes began quietly testing the Blackened Chicken Sandwich in select markets, including Texas, Pennsylvania and Louisiana, in May 2021.
A nationwide launch of the chicken sandwich followed in November 2022 with an ad campaign that challenged other foodservice brands to #copythis.
"We're excited for guests to try this delicious new offering, and knowing our history for trendsetting, we have a feeling it may spark some copycat Blackened Chicken Sandwiches down the road," Siddiqui said at the time.
Chicken sandwich wars continue
Fried chicken sandwiches remain popular with consumers following the 2019 chicken sandwich wars. The Popeyes Chicken Sandwich made headlines after selling out less than two weeks after its U.S. launch in August 2019, resulting in a viral Twitter feud with rival chain Chick-fil-A.
Popeyes Louisiana Kitchen and Chick-fil-A remain the industry leaders, but new chicken sandwiches continue to fuel sales growth in foodservice.
For example, Wingstop attributed a 20.1% increase in same-store sales in the first quarter to the popularity of its chicken sandwich.
"[The chicken sandwiches] have proven to be a powerful enabler for building awareness, increasing frequency and winning new occasions," CEO Michael Skipworth said. "Chicken sandwiches give us an opportunity to deliver our Wingstop flavor in a category that has upwards of 2.8 billion servings annually."
Wingstop launched the chicken sandwich in August 2022 following successful tests earlier that year in Columbus, Ohio, Fresno, California, Las Vegas, Nevada and Orlando, Florida.