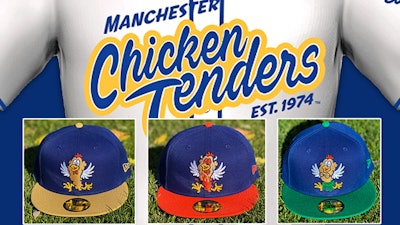 My local minor league baseball team, the New Hampshire Fisher Cats, will rebrand themselves to pay tribute to the birthplace of the chicken tender.
The name change recognizes the 1974 invention of the chicken tender at a nearby restaurant, The Puritan Backroom, in Manchester, New Hampshire.
The Fisher Cats, the double-A affiliate of the Toronto Blue Jays, will wear a custom white jersey that reads "Manchester Chicken Tenders Est. 1974" and features the blue and yellow color scheme of New Hampshire's state flag.
I've spent many a date night at Fisher Cats games, watching future greats such as current Toronto Blue Jays slugger Vladimir Guerrero, Jr., shortstop Bo Bichette and infielder Cavan Biggio, as well as now retired outfielder Melky Cabrera. In addition, The Puritan's chicken tenders are well-loved in the area, so this is an exciting local collaboration.
Classic, buffalo or coconut?
While the uniform design is set, fans can choose which hat the team will wear during the game. By placing a pre-sale order, they can decide between:
The Classic Chicken Tender - Nothing beats an original. When you wear the classic chicken tender cap, you're not just establishing yourself as a connoisseur of Granite State cuisine; you're saluting New Hampshire's proud legacy of culinary creativity.
The Buffalo Chicken Tender - Want to turn up the heat? These buffalo style caps add a kick of flavor, complete with a pair of devil horns to complete the spicy look. Blue cheese or ranch dressing not included.
The Coconut Chicken Tender - A unique alternative with a tropical twist! The coconut caps will have you feeling those sweet summer vibes even in the dead of winter.
I'm a Classic Chicken Tender girl, myself, but I will admit to loving the Coconut Chicken Tender design. The tropical theme makes me smile, especially as the weather begins to cool down here in New England.
An official date for Chicken Tenders night will be announced in the coming months.