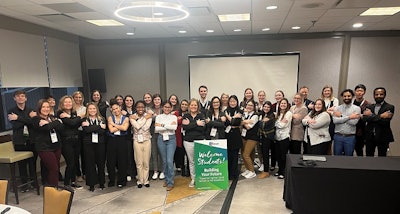 DSM's Building Your Future Event held in conjunction with the 2023 International Production and Processing Expo. (Courtesy of DSM)
Understanding how to successfully transition into the workforce after graduate school can be intimidating. After attending DSM's Building Your Future Event, held in conjunction with the 2023 International Production and Processing Expo, I was reminded of some of the struggles I went through as I started working in the poultry industry.
At the event, poultry industry professionals provided advice based on their real-world experiences to women who are in the beginnings of their career. They gave a lot of valuable advice. Some of my favorite points they made are listed below:
Expand your horizon
Starting a career in poultry can seem one directional at first. However, Raj Murugesan, DSM Head of Global Poultry, highlighted several positions that a rookie in the industry may not be aware of, such as sales, business development, digital marketing, market communications, market intelligence, product management, category management, regulatory management, IP management, acquisitions, screening and more.
"Go to LinkedIn and see if anyone has any of these titles. Reach out to them and ask what kind of job they have and how they got into it," suggested Murugesan.
So many graduate students are focused on only technical or innovation positions, he explained. Finding a job that fits your personality type will help ensure your success. For example, if you are extroverted, sales or marketing may be a good option.
Taking control of your path and defining your environment is extremely important because if you don't know what you want, no one else can define it for you, Murugesan added.
Take personal responsibility for your development
When looking for or starting a new job, it is important for women to understand that leveraging your strengths and writing down your goals on paper is key to building self-confidence and progressing your career growth.
"You need to own what your development plan looks like," said Kristin Bonham, DSM Vice President of Animal Health and Nutrition in North America. "Sometimes as women, we get laser focused on what we need to be better at. We need to focus on what we're great at."
Becoming a conscious contributor and assessing your impact is important when establishing yourself in your role, added Murugesan.
Talk about yourself with confidence
Bonham stressed that writing down the things you have achieved and communicating those points to your manager is an effective way to advocate for your performance.
"Females have the tendency to think that their performance will get acknowledged without having to say it," she said. "Talk about your performance. A performance review is a great time to brag on yourself. It's okay to brag on yourself."
Concerning resumes, Bonham emphasized that the projects or initiatives you led need to be highlighted and not supplemented with phrases like "I supported" or "I assisted" if that's not true.
Run towards difficult conversations
As you take on new roles and additional responsibility in your career, difficult conversations will arise. Finding out how to have them early in your career will help drive your success in the role on a professional level, and confidence on a personal level.
"Having difficult conversations right up front has given me so much peace of mind," added Bonham.
According to Bonham, an easy way to approach a difficult conversation in a professional role is to ask three questions:
What's going on?
What's the impact?
What can we do about this?