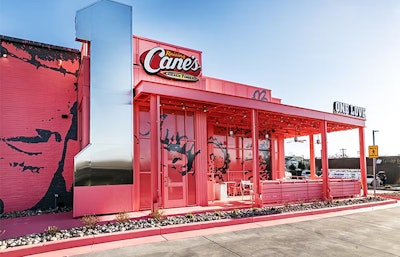 Post Malone may be best known as a rapper, singer and producer, but his latest collaboration is a bright pink Raising Cane's.
"I have the best childhood memories of eating at Raising Cane's in Dallas," Malone said in a statement. "Collaborating with Todd on this restaurant near my house in Utah was awesome, and I can't wait for everyone to order their meal the 'Posty Way.'"
The restaurant, located less than 15 minutes from Malone's home in Midvale, UT, is custom designed from the inside-out, featuring a pink exterior with tattoo imagery like Malone's.
On the inside, outfits worn by Malone are displayed on the wall, reminiscent of a Hard Rock Café. A vending machine wrapped on pink vinyl offers patrons the chance to purchase shirts, beanies, socks, magnets, keychains and other exclusive merchandise.
Malone also created a signature combo for the location. The 'Posty's Way' box includes four chicken fingers, crinkle-cut fries, two Cane's Sauces, two Texas toast and a half unsweet tea/half lemonade in a 32 oz. Collector's Cup.
"This collaboration goes above and beyond to combine Post's legendary vision with our award-winning Chicken Fingers," Raising Cane's CEO and founder Todd Graves said in a statement. "It's over the top — something the restaurant industry has never seen to this level."
The restaurant's unique design evidently came at the personal request of Malone, Graves said. Graves previously appeared the rapper's 2021 "Motley Crew" music video.
The specially designed Raising Cane's opened April 13, where Malone met with the nearly 400 fans waiting outside.
Seems like a win-win-win for Raising Cane's, Malone and fans of both.
Creative ways to keep chicken on consumer minds
Do you work with a retail, foodservice, direct-to-consumer or producer/integrator who came up with a unique way to promote chicken consumption in 2022?
Nominate them for the Chicken Marketer of the Year award! This award recognizes excellence in marketing and public relations campaigns — whether print, digital, video, audio or integrated across multiple channels — in keeping chicken as the protein on the center of the plate.
The deadline to nominate a company or organization for Chicken Marketer of the Year is May 1.
To submit your free nomination, visit https://www.wattglobalmedia.com/chickenmarketingsummit/chicken-marketer-of-the-year.
Attend the 2023 Chicken Marketing Summit
The 2023 Chicken Marketing Summit will be held at Hotel Effie Sandestin in Miramar Beach, Florida on Monday, July 31 – Wednesday, August 2, 2023. Serving a unique cross section of the chicken supply chain, Chicken Marketing Summit explores issues and trends in food marketing and consumer chicken consumption patterns and purchasing behavior.
Submit your free nomination for Chicken Marketer of the Year.
For more information and to attend, visit: www.wattglobalmedia.com/chickenmarketingsummit/.