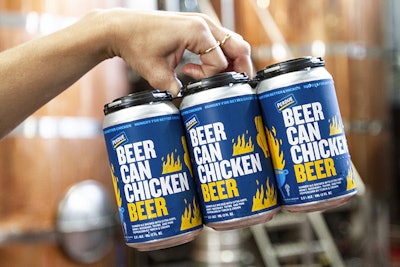 Perdue Farms released Beer Can Chicken Beer to help consumers grill that perfect beer can chicken just in time for Memorial Day, the unofficial start of summer.
The beer, created in partnership with Torch & Crown Brewing Company, is a honey double-citrus summer ale. The custom ale is brewed with rosemary, thyme, pink peppercorn and other classic grilled chicken seasonings, making it ideal for both sipping and for use in beer can chicken.
"Beer can chicken has long been one of the most popular methods of grilling poultry, but we noticed a lack of consensus on what type of beer is best," said Julie Lehman, Perdue vice president of marketing.
"As the fresh chicken experts, we worked with our friends at Torch & Crown Brewing Company to settle the debate for once and all and make a beer that is expertly crafted to help backyard cooking enthusiasts prepare the ultimate beer can chicken – always with a fresh, whole PERDUE chicken – with maximum flavor each and every time."
"We're very happy with how the beer turned out as it perfectly balances both seasonal summer flavors and ingredients commonly found in chicken seasonings to help maximize the flavor of any PERDUE grilled or smoked chicken," added Joe Correia, co-founder and head brewer of Torch & Crown Brewing Company.
Beer can chicken is one of the first things I remember learning how to grill, which means the recipe is linked with memories of summer gatherings with friends and family. The recipe is simple: choose a beer, place a marinated chicken on the beer can and grill to perfection.
So fire up that grill, invite over your loved ones and let's celebrate warmer weather!
To purchase a six pack of Beer Can Chicken Beer, retailing for $14.99, go to https://beercanchicken.beer/, while supplies last.