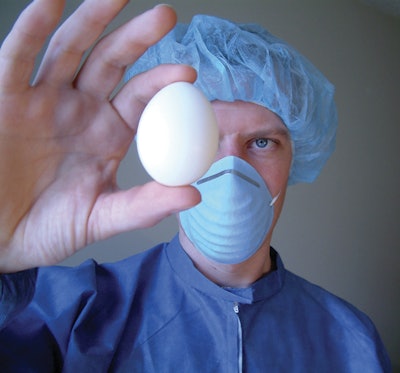 A new approach to in-ovo sex sorting that uses lasers, robots and hormone-based sex identification methods could reduce or even eliminate male chick culling at layer farms.
Approximately 6-7 billion male layer chicks are culled each year, an animal welfare and economic concern. Producers spend more than $70 million in labor and energy to incubate and sex their eggs and the value of wasted eggs in the U.S. is more than $440 million annually. Animal welfare organizations have pressured the egg industry to find an alternative approach.
Egg producers around the world have pledged to adopt in ovo sex sorting technology as soon as it is available. In January, the agriculture ministers of France and Germany jointly announced that the culling of male day-old chicks would be banned by the end of 2021.
Lasers and robots
At the SELEGGT hatchery, located in Barneveld, The Netherlands, lasers are used to create tiny holes in the eggshells of fertilized eggs at day 9 of incubation. The fluid that comes out is checked for an endocrinological marker that signifies the presence of female hormones.
The process is non-invasive, so the interior of the egg remains safe and sound.
Robots sort out the eggs that don't positive for female hormones. The male eggs are recycled into a powdery material that can be used in animal feed.
"We have chosen day nine as an optimum moment for testing eggs because there is a pretty large scientific support that between day 11 through 15 the embryo gets the ability to experience pain. Day nine is an optimum in best test results and moment of sorting," said Martijn Haarman, the Managing Director of respeggt group.
Marketed as "free of chick culling"
The female eggs will remain in incubation. Once these chicks grow up, their eggs will be sold with the respeggt-label "free of chick culling."
"It is important to recognize that any form of sex identification in ovo is going to be more expensive than traditional chick sexing and culling. That is why we developed the respeggt platform which aims to bring the costs of in ovo sexing to the consumer," Haarman said.
"By putting a stamp on the egg which is marketed with the added value 'free of chick culling,' we allow the consumer to decide if and how he appreciates the elimination of chick culling. In the end, it is the consumer who determines if this ethical innovation moves forward by buying the eggs."
Like what you just read? Sign up now for free to receive the Poultry Future Newsletter