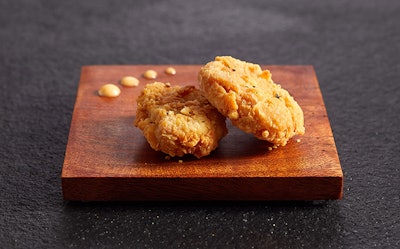 The Singapore government granted regulatory approval to U.S. start-up Eat Just Inc., allowing the company to sell its lab-grown chicken nuggets commercially within the city-state.
Cultured meat is made from real animal cells that are grown with the help of a culture medium in a stainless-steel tank known as a bioreactor, resulting in a product that resembles the taste, appearance and texture of chicken, beef, pork and other meats. Advocates of cultured meat say that the process is more efficient, flexible and consistent than traditional agriculture and there is a growing interest in and openness in trying cultured meat among consumers.
The December 1 announcement marks the first time worldwide that cultured meat received the green light for human consumption.
Safety and quality validations
Eat Just says it went through more than 20 production runs of cultured chicken in their 1,200-liter bioreactors to prove the consistency of its manufacturing process.
In addition, safety and quality validations revealed that the cultured chicken product met the standards of poultry meat, in terms of microbiological content, protein content, amino acid composition, monosaturated fats and as a rich source of minerals.
It took more than two years to get approval from the Singapore Food Agency, Eat Just said.
Chicken bites, sold as part of the GOOD Meat brand, will initially be sold at as-yet-unnamed restaurant, but there are plans for further expansion across dining and retail establishments across the country.
The price of the cultured meat product – which has been a major sticking point for the cultured meat industry – will be comparable to that of premium chicken, the company told CNN Business.
Other countries could follow
The announcement could prompt other countries to follow Singapore's lead.
"Singapore has long been a leader in innovation of all kinds, from information technology to biologics to now leading the world in building a healthier, safer food system. I'm sure that our regulatory approval for cultured meat will be the first of many in Singapore and in countries around the globe," Josh Tetrick, co-founder and CEO of Eat Just, said in a statement.
Eat Just already has a wide range of non-animal products, including Just Egg, made with mung beans, and a vegan mayonnaise, available commercially. Earlier this year, the company revealed plans to launch an Asian subsidiary, including a factory in Singapore.
Like what you just read? Sign up now for free to receive the Poultry Future Newsletter