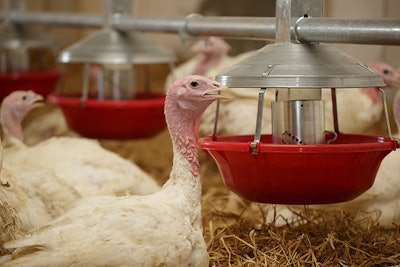 Getty Images/iStockphoto
Using imaging technology on potential breeder stock could improve turkey performance and genetics, making the entire industry more sustainable.
Computerized tomography (CT) scanning can measure the breast meat yield of live turkeys, as well as the size of the birds' heart and lungs. The non-invasive technology was originally developed for medical purposes.
Knowing more about these factors without having to necropsy a turkey can help predict the breeder line growth rate and survival. It can also inform the selection of breeder stock.
"We can make those measurements on animals that are still alive and can later serve as candidates or as parents for the next generation, so it is a great technology that allows us to measure traits on animals," said Johan van Arendonk, chief innovation and technology officer, Hendrix Genetics.
Breeding for sustainability
During his presentation, "How technology creates sustainability progress: Animal genetics perspective" at the recently held Animal Agriculture Alliance Stakeholders Summit in Arlington, Virginia, van Arendonk explained how this technology can lead to a more sustainable breeding program.
New technologies help reduce the ecological footprint of the poultry industry by improving both animal welfare and the robustness of the bird to handle environmental challenges. They can also help breeders measure the phenotypes of new traits in innovative ways, combine all measurements into a single genomic breeding value and support customers to realize the genetic potential of their flocks, he said.
In addition, the development of better genetics helps produce birds that have better feed efficiency, higher survival rates, improved animal welfare and more robustness.
Improvements to turkey genetics takes time and results can take several generations.
"There's a lot on our plate. This means that we need to go for what we refer to as a balanced improvement. It's not about only improving efficiency. We need to do it all," van Arendonk said.