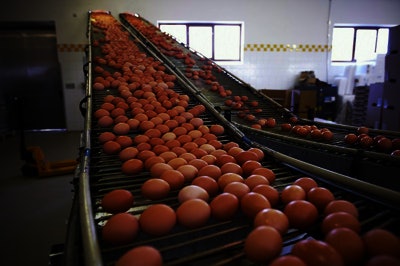 Getty Images/iStockphoto
Manipulating the eggshell by applying a nutritional egg coating in the hatchery introduces probiotic bacteria to a developing chick from the outside of the egg, which can help generate a better immune system and gut health.
"From the time that the egg is laid to the time it goes to the hatchery, the industry focused on keeping that egg as clean as possible and monitoring its environment. However, this tactic does not always work because bacteria that are already in the egg cannot be removed through sanitation," explained Gina Sloan, Ph.D., AGRITX CEO, at the 2022 Poultry Tech Summit.
During the time that the egg is moved from the layer house to the hatchery, there is an 18-day window in which the industry can introduce good bacteria onto the eggshell and colonize the lumen of the egg, which could impact pathogens and overall bird health
"If we do not take this opportunity, we are hatching empty vessels that are waiting to take on whatever is in the environment. When we prime the gastrointestinal tract (GI tract), we prevent an empty vessel situation and can introduce the bacteria that are needed either from a nutritional standpoint," Sloan said.
Creating the coating
The nutritional egg coating was designed by selecting microbial stains based on bile salt tolerance, acid tolerance, the ability to pass through the eggshell and membrane to enter the yolk and the ability to form biofilms.
Sloan's research trials found that there was increased villi production in chicks which had the nutritional coating before hatch, compared to control chicks, indicating a healthier GI tract.
Additionally, she found that the water-based coating does not negatively impact hatchability, chick mortality or growth measures later in life.
"We are continuing our studies on this angle to understand how this is going to impact vaccine efficacy," she added.
Commercial application
Hatcheries can apply the coating using a wet spray, a dry fog or a dry powder. Additionally, a solid-state delivery platform is available for application on the farm.
"We are trying to meet each hatchery where they are. I try to ensure that the technology is flexible enough to be implemented multiple different ways," she continued.
Sloan is looking for a partner to test the nutritional egg coating in a commercial setting.
Attend the 2023 Poultry Tech Summit
Join an exclusive international gathering of industry-changing innovators, researchers, entrepreneurs, technology experts, investors and leading poultry producers at the 2023 edition of Poultry Tech Summit on November 6-8 at the Hilton Atlanta Airport in Atlanta, Georgia.
Attendees can expect the same groundbreaking innovation and insightful presentations that made the previous events well-attended with deep dialogue on new prospective solutions and next-generation technologies. Poultry Tech Summit focuses on the transition of innovative technologies into commercial applications to advance the poultry industry.
Registration for this event will open in the spring of 2023.