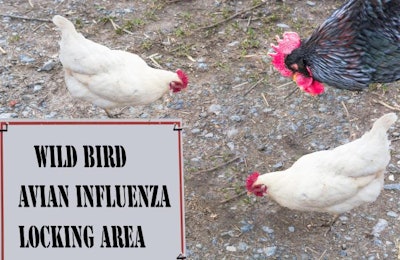 Over the past two weeks, South Africa's veterinary agency has officially registered two further outbreaks of highly pathogenic avian influenza (HPAI) in commercial birds.
Affected were two farms with a total of more than 50,500 birds, according to the official report to the World Organisation for Animal Health (OIE).
H5N1 HPAI virus was detected in a commercial ostrich flock in Western Cape at the end of July. Five of the 785 birds there tested positive for the H5N1 virus variant. One month later, around 360 poultry died at a commercial premises with almost 50,000 birds in Gauteng province.
These latest cases bring the country's total outbreaks linked to this virus subtype since March of this year to 54.
Earlier this month, South African authorities reported there have been no new outbreaks involving low-pathogenic avian flu viruses of the H7 family. Previously, commercial ostriches at 29 locations have tested positive for this virus variant. The most recent positive cases were in February of this year.
Furthermore, no new cases of H5N1 HPAI have been detected for more than one month among South Africa's wild and captive birds.
New outbreak in Botswana
Earlier this week, The Voice of Botswana reported that the cause of recent mortality of around 6,000 poultry is HPAI.
Affected flocks comprised around 4,500 broilers, and 1,475 free-range backyard chickens in Etsha 13. Affected were 75 premises, all in the North West district of this southern African state.
First ever cases of the H5N1 HPAI infection in the country occurred in July. This led to mortalities in a backyard flock at Bokaa in Kgatleng district, around 30 kilometers from the capital city, Gaborone.
Nigeria on 'red alert' for avian flu
Earlier this month, Guardian of Nigeria reported that the country's poultry farmers were on high alert for signs of HPAI in this West African state.
Recently affected by the disease have been around 164,500 poultry that died. These were on farms in six districts of Delta state in the south of the country.
To the north of Delta is Edo state, where the virus has been detected on five farms. Although the infection hit only small flocks there, the threat of further spread of the virus has alarmed poultry owners across the country.
According to the chairman of the local branch of Poultry Association of Nigeria, wild birds may be responsible for bringing the virus to an area. It is then spread further by poultry movements, vehicles, equipment, and people. There is no treatment or cure for the disease, and mortality can be very high, he said, stressing the need for regular and effective cleaning and sanitation of poultry farms.
Guardian reported that some financial compensation is offered to owners of small flocks that are infected, according to the Association chairman for Ogun state. For those with more birds, there is no compensation. An outbreak can cause the business to collapse, leading to lost jobs and livelihoods.
In Nigeria, the H5N1, H5N6, and H5N8 HPAI virus variants have been detected since 2017, according to the United Nations' Food and Agriculture Organization (FAO). Cases have tested positive for the H5N1 virus subtype in the states of Bauchi, Bayelsa, Delta, Edo, Gombe, Kaduna, Kano, Lagos, Nasarawa, Niger, and Plateau. Most recent were 46 outbreaks confirmed in June of this year.
After a nine-month absence from the country, the H5N1 virus was detected again in December of 2020, according to information supplied by the OIE. A total of 89 outbreaks involving around 487,000 poultry in Nigeria were already confirmed in the most recent report to the Organisation, dated July 1.
Avian flu virus detected in new region of Ghana
For Ghana, the first cases of HPAI caused by a virus of the H5 family for three years were recorded in early July. Since then, seven outbreaks have been registered with the OIE. These have involved a total of almost 9,600 birds in the Greater Accra and Central regions.
Now, the infection has spread to the Upper West region, reported Modern Ghana earlier this month. Affected was a commercial farm in Tumu, which is in the Sissala East municipality. Number of birds involved is not specified, but the premises has been depopulated, and the birds destroyed.
So far this year, HPAI has also been reported in the Ghanaian regions of Ashanti, Volta, Western and Western North regions, according to this source.
HPAI outbreaks are not currently confined to Africa. Recent cases have also been reported in wild birds or poultry in Asia and Europe.
View our continuing coverage of the global avian influenza situation.