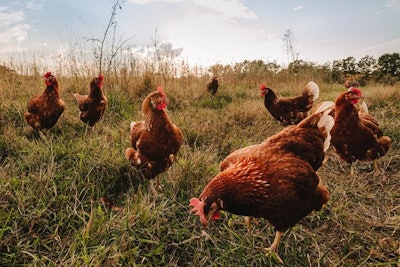 Following the confirmation of highly pathogenic avian influenza (HPAI) in both the United States and in Canada, the chief veterinary officer of the U.S. Department of Agriculture (USDA) Animal and Plant Health Inspection Service (APHIS) said it would be wise for poultry producers whose birds have outdoor access to limit that outdoor time.
Chief Veterinary Officer Dr. Rosemary Sifford, speaking during a webinar on January 18 concerning the confirmed cases of HPAI in two wild birds in South Carolina and another in North Carolina, was asked by one webinar participant if following those discoveries, as well as the discoveries made in Canada, if APHIS would recommend that poultry no longer be given outdoor access, similar to what is done in other countries when HPAI is confirmed in wild birds.
Sifford said it is advisable to keep birds inside in times of an outbreak, but she also understands that requirements for some certification programs call for access to the outdoors.
"We recognize that some poultry are enrolled in programs that specify outdoor access, particularly in the organic programs. We have reached out to our friends that run the organic program and have given them all this information so that they can review and make decisions about any changes that they might want to recommend for that program, said Sifford.
"For poultry not enrolled in a program like that that have outdoor access. We would advise owners to be very careful. As I mentioned, biosecurity is one of the most important things we can do at this time, and any poultry with access to wild birds or droppings from wild birds would be at a higher risk, so we would certainly advise owners that have the opportunity to reduce those risks to consider doing so."
To date, HPAI has been confirmed in an American wigeon and a blue-wing teal in Colleton County, South Carolina, and a northern shoveler in Hyde County, North Carolina.
HPAI has also been confirmed at an exhibition farm and in backyard poultry, both in Newfoundland and Labrador, Canada.
View our continuing coverage of the global avian influenza situation.