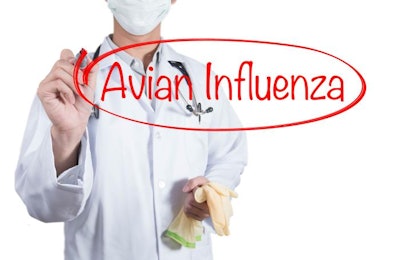 mashi_naz | Bigstock
A flock of more than 5 million chickens at a commercial layer operation in Osceola County, Iowa, is among the latest round of highly pathogenic avian influenza cases to be reported by the United States Department of Agriculture (USDA) Animal and Plant Health Inspection Service (APHIS).
In addition, APHIS reported three new cases of HPAI in commercial turkey flocks, and one in a commercial pheasant flock.
Since that time, the North Carolina Department of Agriculture and Consumer Science reported two new cases prior to their announcement by APHIS, and the Iowa Department of Agriculture and Land Stewardship reported two more cases.
Avian influenza in Iowa
According to the APHIS website, the case in Osceola County was confirmed on March 31 and involved 5,011,726 chickens, making it the second largest number of birds to be affected by HPAI in the United States in 2022. The largest involved 5,347,500 hens, and was located in Buena Vista County, Iowa.
In addition to the Osceola County case, APHIS also reported that HPAI had been found in a commercial turkey flock in Cherokee County, which included 88,000 turkeys.
The Iowa agriculture department on April 3 announced two more HPAI cases in the state. One of those was a commercial turkey flock in Sac County, while the other was a flock of commercial breeding chickens in Humboldt County. The Humboldt County case involved 15,000 birds, while the Sac County case involved 37,200 birds.
Avian influenza in North Carolina
North Carolina officials issued a press release on April 1, announcing that two new cases of HPAI had been confirmed in commercial turkey flocks in Johnston County. One flock had 18,900 turkeys and the other had 9,500.
Prior to these two cases, HPAI had appeared in another commercial turkey flock in Johnston County, with that one involving 32,100 birds.
Avian influenza in Texas pheasants
The first case of HPAI to be reported in a commercial operation in Erath County, Texas, occurred in a pheasant operation.
APHIS announced the confirmed case in a press release issued on April 3.
Samples from the flock were tested at the Texas A&M Veterinary Medical Diagnostic Laboratory, part of the National Animal Health Laboratory Network, and confirmed at the APHIS National Veterinary Services Laboratories in Ames, Iowa.
There were 1,600 birds in that flock.
Minnesota and South Dakota
The other two new cases reported by APHIS were turkey flocks in Morrison County, Minnesota, and McPherson County, South Dakota. The South Dakota case involved 25,500 birds, while the Minnesota case involved 52,000 turkeys.
To learn more about HPAI cases in North American commercial poultry flocks, see an interactive map on WATTPoultry.com.
Read our ongoing coverage of the global avian influenza outbreak.