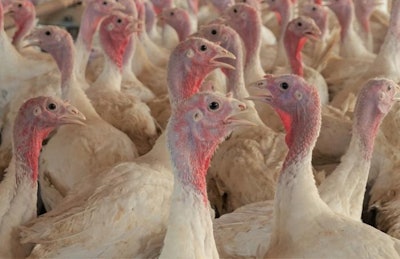 The presence of highly pathogenic avian influenza (HPAI) was confirmed in a flock of 57,000 commercial turkeys in Dakota County, Minnesota.
The case was confirmed on May 21, the Minnesota Board of Animal Health and the United States Department of Agriculture (USDA) Animal and Plant Health Inspection Service reported.
No other cases of HPAI in the United States – in either commercial flocks or backyard flocks – were reported on that day. Prior to this case, the most recent day in which HPAI was confirmed was May 18, when both a flock of commercial breeder tom turkeys and a flock on a commercial duck breeder were infected. Those cases occurred in Kandiyohi County, Minnesota, and Berks County, Pennsylvania, respectively.
This marks the first HPAI case in Dakota County in 2022, and the 59th overall in commercial poultry in Minnesota.
Other Minnesota counties with confirmed cases of HPAI in commercial poultry so far in 2022 include Meeker, Stearns, Lac Qui Parle, Morrison, Becker, Dodge Le Sueur, Big Stone, Waseca, Otter Tail, Renville, Swift, Yellow Medicine, Blue Earth and Lyon.
All but two of the commercial poultry flocks affected by HPAI this year were operated by turkey producers except for two of the Morrison County flocks. One of those involved a flock of 42,905 commercial broilers, while the other was a commercial table egg layer flock, which included 216,236 chickens.
Morrison County has had more HPAI cases than any other county in the state, with 10 cases in commercial flocks and one in a backyard flock.
New case confirmed in Canada
The Canadian Food Inspection Agency (CFIA) also reported on new case of HPAI in commercial poultry. This case was confirmed in Abbotsford, British Columbia. No further information on the affected flock was released.
To learn more about HPAI cases in North American commercial poultry flocks, see an interactive map on WATTPoultry.com.
Read our ongoing coverage of the global avian influenza outbreak.