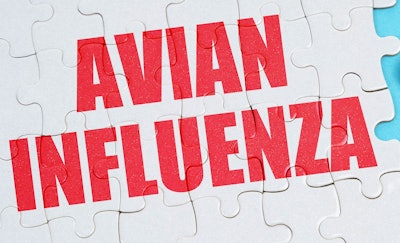 (SkazouD | Bigstock)
Cases of highly pathogenic avian influenza (HPAI) continue to be confirmed in commercial poultry flocks in Quebec.
The latest case was confirmed in a flock on July 22 in Saint-Gabriel-de-Valcartier, according to information from the Canadian Food Inspection Agency (CFIA). Information concerning the size of the flock involved, or the species of birds in the flock has not yet been disclosed.
The four most recent HPAI cases in Canada have all been in Quebec. Three previous cases were confirmed in La-Jacques-Cartier on June 28, July 3 and July 9. At least two of those were commercial turkey flocks.
In total, eight cases of HPAI have been confirmed in Quebec commercial poultry flocks in 2022.
Elsewhere in Canada, the most recent case of HPAI in commercial poultry was confirmed on June 8 in Langley Township, British Columbia.
Every province has had at least one confirmed HPAI case, whether it has been in a commercial flock, backyard flock, wild birds or a combination of two or more of these. However, the only provinces to have positive HPAI detections in commercial poultry are Alberta, British Columbia, Manitoba, Nova Scotia, Ontario, Quebec and Saskatchewan.
Meanwhile, in the United States, the last two confirmed HPAI cases in commercial poultry have both been in Sanpete County, Utah, and both were turkey flocks. Those cases were confirmed on July 14 and July 18. Collectively, between those two flocks, 38,800 turkeys were affected.
So far in 2022, HPAI has been confirmed in commercial poultry in the states of Michigan, Wisconsin, Oklahoma, Minnesota, North Dakota, South Dakota, Nebraska, Kansas, Iowa, Missouri, Kentucky, Indiana, Colorado, North Carolina, Pennsylvania, Delaware, Maryland and Utah. The virus has also been found in commercial game bird operations in Texas, New York and South Dakota.
To learn more about HPAI cases in North American commercial poultry flocks, see an interactive map on WATTPoultry.com.
Read our ongoing coverage of the global avian influenza outbreak.