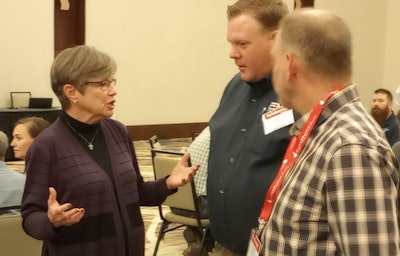 Kansas Gov. Laura Kelly told a group of more than 400 agriculture professionals they can be proud of the work done in the state to help control and contain the spread of human and animal disease, and that they can look forward to the state becoming even more of a leader in agricultural biosecurity.
Kelly was one of the speakers during the Kansas Ag Summit, held August 18 in Manhattan.
The governor mentioned the National Bio and Agro-Defense Facility, being developed in Manhattan. Presently, the United States Department of Homeland Security is in the process of commissioning that facility, where scientists there will study viruses and zoonotic pathogens in livestock.
However, she praised the people of the state for its already strong commitment to biosecurity.
"The facility will go online next year, but already, Kansas' foreign animal disease exercise has made us the most prepared state in the nation to combat animal and zoonotic disease," she said.
Avian influenza response
"We saw benefits from being prepared earlier this year," Kelly said. "Throughout the 2022 nationwide outbreak of highly pathogenic avian influenza (HPAI), the Kansas Department of Agriculture (KDA) worked with the USDA and local agencies to contain and prevent the further spread of the disease."
Kansas had one case of HPAI in a flock of commercial turkey breeder hens, as well as five cases in backyard flocks All of those control areas have since been released.
COVID-19 response
Kelly also complimented the KDA and the state's meatpacking industry for its commitment to protecting the workforce during the height of the COVID-19 pandemic.
"Our emergency readiness is critical to business continuity," she said. "During the early days of the COVID-19 pandemic, we worked with our meat processing plants to keep them open, producing right through the pandemic."
Kelly said Kansas did not have to close down any of its meatpacking operations "for any length of time" during the pandemic, and according to her, was the only state that could claim so.