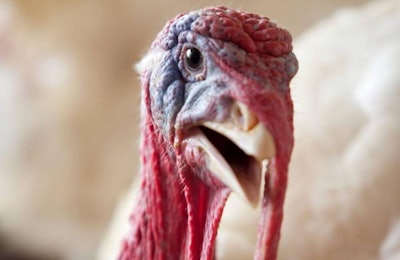 Testimony from National Turkey Federation (NTF) Vice Chairman John Zimmerman revealed six major concerns the organization hopes federal officials can resolve.
Zimmerman, on May 17, testified before the House Agriculture Subcommittee on Livestock, Dairy and Poultry during the hearing, "A review of Animal Agriculture Stakeholder Priorities."
A video of the hearing can be found on YouTube.
1. Avian influenza vaccination
Zimmerman offered an overview of the current highly pathogenic avian influenza (HPAI) outbreak, which began in the United States in the early part of 2022.
There have so far been 227 cases in commercial turkey flocks, which resulted in the loss of about 10 million turkeys, Zimmerman said, adding that 40% of those losses occurred in his home state of Minnesota.
It has been revealed that Congress and the United States Department of Agriculture (USDA) Animal and Plant Health Inspection Service (APHIS) is exploring potential vaccine candidates and a possible vaccination program.
And while Zimmerman said the NTF supports vaccine research, the possibility of the loss of trade is an area of worry.
"An effective vaccine would be an important tool for eradication, but outdated trade agreements create enormous trade ramifications. NTF has repeatedly stated that we are not seeking vaccine to vaccinate commercial poultry if it would severely damage export opportunities for any poultry or egg product. But we must work together to identify potential vaccines and to modernize our trade agreements. No one should be afraid of sound scientific research and open negotiation with our trading partners," Zimmerman testified.
2. Indemnity payments
Zimmerman said NTF appreciates that indemnity payments have been made available to producers who have lost flocks to HPAI. And while he said they don't cover all grower losses, they do provide a "vital economic lifeline."
He noted that APHIS has begun paying higher indemnities for breeders and organic turkeys, and asked that higher indemnity payments also be considered for other higher value turkeys, such as no antibiotics ever turkeys and grandparent and great-grandparent breeding stock.
3. APHIS staffing
The HPAI outbreak has put a great demand on the APHIS staff, which is essential to avian influenza response and control.
"The agency has been understaffed for some time and needs at least 150 full-time employees to return to normal strength and ensure we are able to depopulate infected barns as quickly as possible," Zimmerman testified.
4. CO2 shortage
The use of CO2 is essential in turkey production, because it is utilized as both a stunning agent and a way to safely cool products in turkey plants.
But short supplies have caused major disruptions to the industry, Zimmerman testified.
"CO2 prices have soared and suppliers have invoked force majeure numerous times because of CO2 shortages," said Zimmerman. "Almost every turkey plant has experienced at least one force majeure and the industry has lost over 500 days collectively to shortages."
Zimmerman also expressed concerns to the subcommittee that the looming doubling of the 45Q tax credit for carbon sequestration in the Inflation Reduction Act "is sure to exacerbate the problem."
5. Rules involving and contract grower relations
Zimmerman let the subcommittee know he was aware of a pair of proposed rules that seek to address what USDA considers flaws in the poultry grower contracting process.
The first rule deals with contract transparency while the second is designed to ensure inclusiveness in contracting. Neither are what is needed, he said.
"The first rule lacks a clear understanding of turkey production, and as a turkey grower, I can tell you this proposal does not benefit me or any of my neighbors. The second rule is far too ambiguous and clearly invites litigation. It will make it much more difficult for processors and growers to conduct business. We urge USDA to withdraw the rule," Zimmerman said.
6. Access to workers
Zimmerman told the subcommittee that the turkey industry continues to suffer from a lack of access to workers.
"Most turkey plants are located in rural, low-unemployment areas and to fully staff our plants, our processors need outside labor, including immigrant labor," he said. "Guest worker programs target only seasonal on-farm labor and non-agricultural manufacturing. The turkey industry supports immigration reform that will maximize benefits to the industry and ensure a strong immigration system that meets the needs of the U.S. economy."