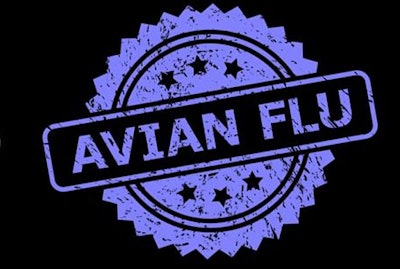 Following successful testing of vaccines against highly pathogenic avian influenza (HPAI), France has announced plans to begin vaccination of poultry in the coming months. The new spike in French farm outbreaks continues, while some new cases are also reported in other countries.
Back in December of last year, the French agriculture ministry announced that it was developing an action plan to control HPAI. This followed heavy losses of poultry and wild birds from infection with the H5N1 virus serotype in outbreaks that had already been ongoing almost continuously for more than 12 months.
Now that certain conditions have been met, the ministry has now announced that vaccination is set to being later this year.
At the 90th General Session of the World Organization for Animal Health (WOAH) held in Paris last week, France presented its action plan on HPAI vaccination. This was developed with a range of stakeholders, including poultry farmers, veterinarians, veterinary drug companies, national agencies for food (ANSES) and veterinary medicine, and the Toulouse veterinary school.
Agriculture minister Marc Fesneau reported to the session that results of an experiment on vaccinating mule ducks have now been published. So too has the planned vaccination strategy. Furthermore, the ministry has called for tenders to obtain 80 million doses of vaccine. These are intended for use in mule ducks and Muscovy ducks.
According to ANSES, both vaccines tested gave similar results. In mule ducks (typically used for foie-gras production), vaccination reduced viral shedding. As a result, there was a lower risk of transmission of the virus directly to contact birds, as well as indirectly into the air.
French HPAI vaccination strategy
Among the key principles of the new strategy set out by the ministry is that preventative vaccination is the only option current under consideration in France. It is to be a temporary measure in an overall program that aims to eradicate the disease, and it will be accompanied by strict surveillance processes.
Vaccines used will be safe, effective, and authorized by the relevant French or European Union (EU) agencies. Compatible with the principle of Differentiating Infected from Vaccinated Animals (DIVA), it will be possible to distinguish antibodies present due to vaccination from those arising from field infections.
Currently, live vaccines — attenuated or otherwise — are not authorized for use in the EU as they do not allow DIVA to be carried out.
Lastly, the strategy will be based on trial results from France and other EU member states, as well as safety assessment by ANSES.
According to the strategy document, biosecurity will continue to provide the basis for HPAI prevention and control.
Once implemented, vaccination will be mandatory (with few exceptions). Among these is that France will not vaccinate breeding poultry that are produced for export. According to the published plan, this will allow importing countries to retain control over day-old chicks and hatching eggs.
Even vaccinated flocks will be subject to surveillance under the new strategy, as well as to depopulation in case of outbreaks.
EU poultry outbreak total in 2023 approaches 350
Since the start of this year, 343 outbreaks of HPAI in poultry have been confirmed in 19 EU member states and neighboring countries. This is according to the Animal Disease Information System by the European Commission (EC; as of May 19).
Of this total, the country with the most outbreaks — 121 — is France. It represents an increase of 57 from the previous EC update dated April 28. Next come Hungary (79 outbreaks to date), and Poland (58).
4 western European nations report new HPAI cases in poultry
During the months of March and April, France experienced a lull in HPAI on poultry farms. However, since then, 57 outbreaks have been confirmed by the French authorities in notifications to WOAH. Directly impacted have been around 412,000 poultry.
As before, most of these outbreaks have been in the southwest of France. Worst affected by the latest outbreaks have been the departments of Gers (Occitanie region), and Landes (New Aquitaine). By mid-May, cases were also confirmed at two premises in Pyrénées Atlantiques, which is also part of New Aquitaine.
According to the agriculture ministry, 389 outbreaks have occurred in commercial poultry on the French mainland in the current HPAI "season," which commenced in August of last year. To date, cases have been detected in 33 departments in all 12 regions of France.
With the exception of Northern Ireland, the disease situation in the United Kingdom (U.K.) is not monitored by the EC System.
However, since mid-May, three further outbreaks have been confirmed in England by agriculture department, Defra. Bringing the total for the year to date to 31 were two outbreaks on farms in the eastern county of Lincolnshire, and one in the south-east in East Sussex.
As in the great majority of outbreaks across Europe in both wild and domestic birds over the past two seasons, presence of the H5N1 virus serotype was confirmed at these locations.
In the Czech Republic (Czechia) and in Germany, two further outbreaks were registered with the EC System since the end of April. These bring the nations' totals so far in 2023 to 24 and 23, respectively.
Since mid-May, two cases of HPAI in poultry have been reported in Germany by the national veterinary reference laboratory, Friedrich-Loeffler Institute (as of May 26). These involved a chicken from Mecklenburg-West Pomerania, and a breeder pullet in Bavaria.
Meanwhile, the national authorities have declared to WOAH that HPAI in poultry has been "resolved" in Belgium and Denmark. Declarations followed 14 and one outbreak in these states, respectively.
Two European nations report new cases in captive birds
So far in 2023, 13 countries have together registered a total of 82 outbreaks of HPAI in captive birds through the EC's system (as of May 19). This category appears to cover backyard poultry, zoos and similar premises.
Recording the most outbreaks in captive birds have been Germany (29) and France (25). However, their totals have not changed since the end of April.
For the first time this year, the virus has been detected in captive birds in the Czech Republic.
HPAI outbreaks in wild birds pass 2,000
Up to May 19, the EC's system had recorded 2,195 outbreaks across the EU and neighboring states.
Worst affected have been Germany (699 outbreaks for the year to date), France (302), the Netherlands (243), Italy (167), Belgium (153), Switzerland (124), and Austria (121).
Since the previous update on April 28, the totals for Germany, Poland and the Netherlands have risen by 109, 47, and 33, respectively. Also registering additional outbreaks over this period were the Czech Republic, Denmark, Hungary, Latvia, Lithuania, Northern Ireland, Serbia, Romania, Slovenia, Sweden, and Switzerland.
For the first time in 2023, the virus has been detected in wild birds in Estonia, Iceland, and Latvia.
Further details of these outbreaks are given in the official notifications to WOAH. Notable are the high and rising numbers of infections involving gulls of various species, and other seabirds.
Avian flu situation in Russian birds
The disease situation in Russia is not covered by the EC's system.
Following a near two-month hiatus, the H5N1 HPAI virus has been detected again in poultry in Yaroslavl.
Earlier this month, an outbreak in this oblast in the Central federal district resulted in the mortality of more than 9,900 commercial birds out of a flock of just over 892,000. According to the WOAH notification, the source of infection is unknown.
Over recent weeks, one additional outbreak linked to the same virus type has been recorded in a backyard poultry flock in the same federal district. Affected were 45 birds in the Ivanovo oblast.
Furthermore, there appears to be a new spike in new HPAI infections among Russia's wild bird populations.
Registering the most new cases reported to WOAH since mid-May have been 454 in the Volga federal district, 217 in the Central district, and 144 in the Komi Republic (Northwestern district). Furthermore, a handful of new cases were identified in Kaliningrad, which is also part of the Northwestern federal district.
Meanwhile, the situation in one region in the Southern federal district has been declared to WOAH as "resolved." Between mid-March and the end of April, 339 wild birds that died tested positive for the H5N1 HPAI virus in Astrakhan oblast. Of these, 315 at one location were wild swans.
Human, other animal cases in Europe
In the U.K., two people tested positive for an H5 influenza virus, reported the government's Health Security Agency (UKHSA) in mid-May.
Both had worked on farms where poultry had tested positive for HPAI. Neither showed symptoms of infection, and it is uncertain whether these were true infections, or whether they had inhaled infected materials. Subsequently, both workers have tested negative for the virus.
According to UKHSA, under the asymptomatic surveillance program, poultry workers are requested to take swabs of their nose and throat during the 10 days after their exposure. Swabs are then tested for the presence of influenza virus.
In Belgium, one more red fox found dead has tested positive for the H5N1 HPAI virus. According to the WOAH notification, this brings the nation's total in mammals to 29 cases.
View our continuing coverage of the global avian influenza situation.