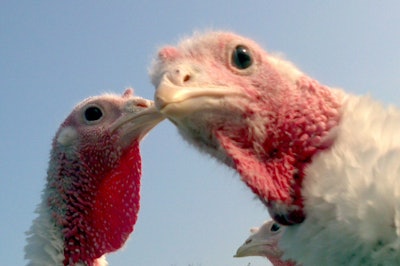 Richard Wozniak | Dreamstime
The presence of highly pathogenic avian influenza (HPAI) was confirmed in commercial turkey operations in North Dakota and South Dakota on November 15.
Each of the two states had one new farm affected by the virus.
Avian influenza in South Dakota
In South Dakota, a flock of commercial turkey breeder replacement hens was affected in Edmunds County. There were 24,500 hens in that flock, according to the United States Department of Agriculture (USDA) Animal and Plant Health Inspection Service (APHIS). It had been nearly a year since HPAI appeared in an Edmunds County flock, with the last case being confirmed November 21, 2022.
So far in 2023, South Dakota has had 16 commercial poultry or upland gamebird flocks affected by HPAI. In 2022, the state had 61 commercial flocks infected, bringing the two-year total to 77.
Avian influenza in North Dakota
North Dakota's most recent HPAI case involved a commercial meat bird flock in Lamoure County, involving 25,100 turkeys.
Prior to now, North Dakota had not had any confirmed HPAI cases in commercial flocks since April 19, when a turkey operation in Dickey County was affected. So far in 2023, only those two commercial flocks have had the presence of HPAI confirmed, but in 2022, the presence of the virus was confirmed in five flocks. Two of those were in Lamoure County.
Avian influenza in British Columbia
Cases of HPAI continue to surge in the Canadian province of British Columbia, with the most recent detection being confirmed on November 15 in Langley Township, according to information from the Canadian Food Inspection Agency (CFIA).
Since the beginning of the 2022-23 HPAI outbreak, 108 premises holding commercial poultry have been confirmed sites for the virus. Other provinces to have commercial poultry affected are Alberta, Quebec, Ontario, Saskatchewan, Manitoba and Nova Scotia. However, none of those provinces have been hit nearly as hard. Alberta comes the closest, with 44 commercial poultry flocks affected.
View our continuing coverage of the global avian influenza situation.
To learn more about HPAI cases in commercial poultry flocks in the United States, Mexico and Canada, see an interactive map on WATTPoultry.com.