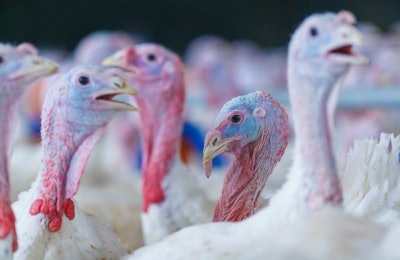 The first case of highly pathogenic avian influenza to occur in the United States since 2017 affected a flock of 34,160 commercial turkeys in Chesterfield County, South Carolina, according to a World Organisation for Animal Health (OIE) report.
The case, reported earlier by the U.S. Department of Agriculture (USDA) Animal and Plant Health Inspection Service (APHIS), involved a highly pathogenic strain of H7N3 avian influenza. It is believed that the strain mutated from a low pathogenic form of the virus, which had been found present in other flocks in the area. There have been reports of 12 cases of low pathogenic avian influenza in the United States in 2020. Eleven of those were in North Carolina while one was in South Carolina.
According to the OIE, clinical signs included respiratory signs, snicking and increased mortality.
Of the 34,160 turkeys in the flock, 1,583 died as a result of contracting the virus. The remaining 32,577 turkeys were depopulated and disposed of. State officials have quarantined the property. State and federal agencies have initiated a comprehensive epidemiological investigation.
Other control measures applied include zoning, movement control inside the country, surveillance within and outside the containment and protection zones, disposal of byproducts and waste.
APHIS is urging all bird owners, whether commercial producers or backyard enthusiasts, to continue to practice good biosecurity, prevent contact between their birds and wild birds, and report sick birds or unusual bird deaths to state or federal officials, either through their state veterinarian or through USDA's toll-free number at +1.866.536.7593.
The OIE also has active reports of highly pathogenic avian influenza in other countries, including Hungary, Poland, India, Taiwan, Bulgaria, Germany and France.
OIE stated that it would submit weekly reports on the highly pathogenic avian influenza situation in the United States until it considers it to be resolved.
View our continuing coverage of the global avian influenza situation.