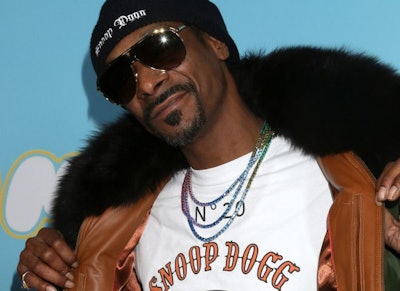 If you are in the turkey industry, perhaps you should get on Snoop Dogg's radar.
Yes, you read that right. The entertainer/entrepreneur, using his given name of Calvin Broadus, has applied with the United States Patent and Trademark Office (USPTO) to trademark the term "Snoop Doggs."
At this point, not a lot is known about the potential product, but the application states that the "trademark registration is intended to cover the categories of food including hot dogs, hot dog sausages, sausages, turkey sausages, vegetarian sausages; food for consumption on or off the premises including hot dogs, hot dog sausages, sausages, turkey sausages, vegetarian sausages."
There you have it.
Now, just how far along in the process Mr. Broadus and his people are is uncertain, but things could be clicking along. The document on the USPTO website states that he, with the help of attorney Lawrence E. Apolzon, filed the application on December 6, 2021, and that the application will be assigned to an examining attorney about six months after it was filed.
Any time a new food product is in the pipeline, it presents an opportunity to farmers and others in the agrifood industry. But as I mentioned when I blogged about Megan Thee Stallion's Hottie Sauce at Popeyes, when a product is aligned with a celebrity, it tends to attract consumers.
I'll admit, I don't know too much about Snoop Dogg, other than he, like Ms. Thee Stallion, started his career as a rapper. (I'm listening to '80s and '90s country musician Steve Wariner as I write this, so that will tell you how much of an authority on rap music I am.)
However, if I had a chance to jump in and enter some sort of partnership with Snoop Dogg, who has been a relevant pop culture figure for more than a quarter of a century and has had a number of successful business ventures, I would certainly consider it.