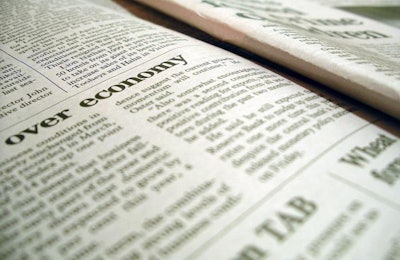 It's no secret that Americans are becoming less and less knowledgeable about agriculture.
While there is no one specific reason this is the case, Joe Proudman, the associate director for communications at the University of California-Davis CLEAR Center, shed some light on one of the reasons. It was something I already knew, but during his presentation at the Animal Agriculture Alliance Stakeholders Summit on May 4, Proudman pointed out just how severely the number of agricultural journalists at major newspapers has dwindled.
The era of the shrinking newsroom
I think we all know that in general, the newspaper industry is in a decline and has been for quite some time. I walked away from the newspaper business on my own terms in 2012, but some friends and former co-workers weren't so lucky, as shortly after that, staff sizes and circulation frequencies declined and they found themselves looking for work. The daily paper where I spent the bulk of my career has since consolidated with another daily paper in the county, and later scaled back to three print editions a week. Based on what I've heard, fewer people work at the consolidated paper than worked at either of the two papers individually.
I even wrote about the topic of reduced newspaper staffs in a blog post several years ago, when the building that once was the office for the Wichita Eagle, the largest daily newspaper in Kansas, was being razed so the site could be the new home for Cargill's North American Protein headquarters. The Eagle simply did not need that much building space anymore, so it found a smaller building.
So with smaller newspaper staffs, it is understandable that agriculture reporters would also be harder to come by. Perhaps even disproportionately when compared to other specialized reporters. Now, agriculture is covered by reporters who aren't as familiar with the industry – if agriculture is even covered at all.
Ag reporters at largest newspapers
Most of the major papers in the country still have some agricultural coverage, but it seems apparent that most who report on the industry are not fully informed. And Proudman finds himself rhetorically asking, "How are you guys missing so much?"
He also noted that many of the reporters seem to prefer emailing pre-written questions without having actual conversations.
Proudman offered the following summaries of agriculture reporters at some of the country's largest circulated newspapers:
Wall Street Journal – The Wall Street Journal has five agriculture reporters, primarily based in the Midwest. The primary focus of the Journal's agriculture coverage is on markets, with less on-the-farm reporting.
New York Times – The New York Times does not have any reporters with agriculture as a specific beat. However, general assignment reporters do cover various aspects of agriculture, with research being one of the most covered topics.
USA Today – This paper, owned by Gannett, the largest newspaper chain in the country, has no designated agriculture reporters.
Washington Post – Food writers will cross over into agriculture news. The paper also has one columnist who regularly writes about agriculture.
Los Angeles Times – Most of this paper's agriculture coverage are people-focused agriculture stories, based in the valley.
Chicago Tribune – While the Tribune, according to Proudman, once had "a very robust agriculture section," he said he hasn't seen much ag-oriented reporting in the publication since 2019.
New York Post – The Post still has an agriculture section, which Proudman describes as "something to behold." He said it is a mix between serious agriculture news and "Florida man news."
Minneapolis Star Tribune – Proudman said readers of this paper have "somewhat of a luxury," because the Star Tribune still has a dedicated ag reporter, as well as several other reporters who cover agriculture.
What about your local paper?
While these papers Proudman mentioned seem to certainly lack appropriate agriculture coverage, it would be interesting to know what some of the other papers in the country are doing.
As far as I'm concerned, the circulation size and the geographical area covered is somewhat immaterial. Whether you read the New York Times, the Pueblo Chieftain or the Kearney Hub, you should have access to accurate and informative agriculture news.
I'd love to find out how good and thorough the agriculture coverage in your local or regional newspaper is. Feel free to leave a remark in the comment section below.