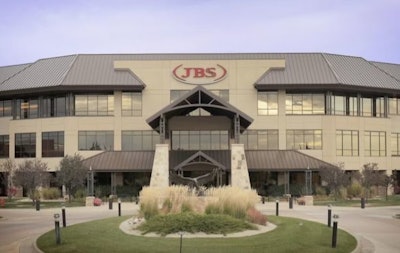 JBS
JBS' planned joint listing in Brazil and the United States is facing opposition from a pair of environmental groups: Mighty Earth and Rainforest Action Network (RAN).
The Brazil-based JBS announced it had proposed a dual listing, in which company shares would trade on both the Sao Paulo Stock Exchange and the New York Stock Exchange (NYSE).
"The dual listing strategy will accelerate our capacity for diversification and growth into more branded and value-added food products, reduce our cost of capital and generate greater returns for shareholders, while creating opportunities for the communities where we operate and for our more than 260,000 team members around the world," the company stated at the time.
JBS, according to the WATTPoultry.com Top Poultry Companies Database, is the world's largest poultry producer, having slaughtered 4.43 billion chickens during the past year. It's key chicken brand in South America is Seara. It is also the majority shareholder of Pilgrim's Pride, the second-largest poultry producer in the United States, which also operates in Mexico, as well as in Europe as the owner of Northern Ireland-based Moy Park. Pilgrim's is already publicly traded in the U.S. on the Nasdaq Exchange, under the PPC ticker.
Mighty Earth's opposition
Might Earth, on its website, describes itself as a global advocacy organization working to defend a living planet. The group says its goal is "to protect half of Earth for nature and secure a climate that allows life to flourish."
Mighty Earth lodged a submission against JBS with the U.S. Securities and Exchange Commission (SEC), urging the SEC to scrutinize the proposal for a joint listing. The group said such an Initial public offering (IPO) could give members of the company's founding family, the Batistas, up to a 90% control of the company.
"This is probably the single most important IPO for the climate in history. There are profound implications for the planet if JBS, the world's worst Amazon deforester, is given the go ahead to seek billions of dollars from Wall Street to continue tearing down rainforest, polluting on a vast scale, and driving land-grabbing," Mighty Earth CEO Glenn Hurowitz said in a press release.
"Concentrating 90% of voting power in the hands of the Batista brothers, Joesley and Wesley, … restricts the ability of outside investors to push JBS to end deforestation or deal with its outsized emissions."
Rainforest Action Network's opposition
Citing similar concerns, RAN wrote to the SEC, seeking an investigation into "allegations that JBS does not operate to acceptable business standards."
"JBS is a notorious company with a well documented history of destructive practices and massive impacts on the climate, including illegality, corruption, bribery and land conflict with Indigenous communities," said Merel van der Mark, RAN spokesperson and coordinator of the Forest and Finance Coalition. "To fulfill its role of basic due diligence, we request that the SEC conduct a thorough investigation into the pattern of alarming and unacceptable corporate conduct by JBS before granting it an IPO on the NYSE."
RAN, according to its website, aims to preserve forests, protect the climate and uphold human rights by "challenging corporate power and systemic injustice through frontline partnerships and strategic campaigns."
JBS responds
When contacted by WATT Global Media for comment, JBS offered the following statement: "JBS is confident our dual listing proposal will create opportunities for our company, team members, shared communities and all stakeholders. The proposal accelerates our efforts to enhance corporate governance and transparency through adherence to Securities and Exchange Commission (SEC) standards and the formation of a majority independent board. We recognize the important role of civil society and we are always open to dialogue with thoughtful stakeholders who share our commitment to a more sustainable future. We look forward to enhancing our collaboration with (non-governmental organizations) and other key stakeholders during this next phase in the company's evolution."