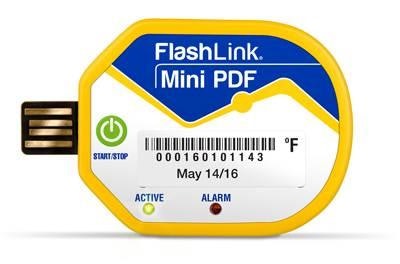 The DeltaTrak FlashLink Mini PDF in-transit logger is a compact, single-use temperature recorder to provide accurate, reliable monitoring of conditions during transport, storage and handling of any perishable product. This product has been updated to inclute a Shadow Log feature, which means that temperature data is recorded even if a shipper forgets to start the unit, so receivers will always be able to download trip data when a load arrives.
It has both F° and °C scales on one chart, making it user friendly for receivers worldwide. Reports are automatically generated when the logger is plugged into the USB port of a PC, tablet, or printer, where they can be saved and shared by email in PDF and CSV formats.
The FlashLink Mini PDF has a compact, single use design that incorporates a USB connector and on-board software, making it quick and easy to access data without special reading devices or installing software. One model can be used for all domestic and export trips up to 85 days, so shippers don't have to stock multiple brands with various recording periods.