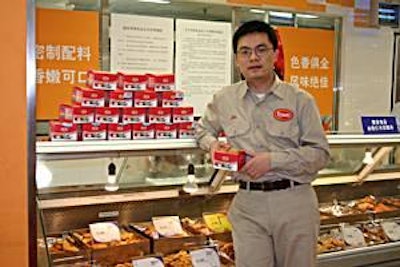 While China's growth may have slowed last year, it remains an attractive place to do business, and the country is actively looking for foreign investors as sources of funding, technology and high-caliber experts.
Animal agriculture in particular, and the foreign companies that have made investments in this area, are benefitting from the growth of the retail market, improved supply chains and greater cooperation opportunities.
Foreign capital invested in China's animal agriculture sector increased from US$54 million in 2006 to US$106.17 million in 2007, an increase of 96.6%, according to China's Ministry of Commerce, and this investment is continuing to grow.
For example, in March last year, Thailand's Charoen Pokphand broke ground on China's largest layer farm, with an annual capacity of 45,000 tons of eggs. In 2008, the US' Tyson Foods opened two new subsidiaries in Jiangsu and Shandong provinces, forecast to produce 50 million and 100 million birds, respectively.
Retail
Price sensitivity is no longer the obstacle for foreign brands that it once was, as rising incomes are making even high-end products more affordable to the general population. Alongside this increase in spending power, the country's infrastructure has undergone significant change. Tyson, and other foreign concerns, are benefitting, for example, from the rise of refrigeration in China's retail sector.
Marketing director with the Shanghai-based representative office of Tyson Joe Zhu explains: "China's retail cold chain has developed very quickly over the last decade. However, the growing retail sector still lacks adequate supplies and, consequently, there are great opportunities for foreign investors."
In addition to Tyson, other foreign concerns, including the US' Hormel Foods, Japan's Itoham Food and Thailand's Charoen Pokphand are also looking to the retail sector.
In Shanghai's City Shop Supermarket, for example, curious shoppers can purchase smoked turkey meat from Hormel's Shanghai subsidiary. The Chinese, however, traditionally prefer pork products, and they can also now buy bacon from Itoham's Beijing subsidiary.
Analysts believe that as well as taking advantage of China's improving infrastructure, foreign investors are also able to take advantage of the fragmented nature of the local industry.
Xie Gang, of Shanghai-based Sinolink Securities says: "Foreign investors will continue to enter China's pig and poultry industries because small-scale operations currently account for about 70% of the market. Foreign companies are able to run their businesses successfully because of a lack of strong competition."
Traditionally, meat in China has been sold at wet markets, where meat animals are butchered and meat sold alongside fruit and vegetables without refrigeration.
Because of safety concerns, foreign investors have shied away from this channel. Retail outlets with refrigeration, such as supermarkets, hypermarkets and convenience stores, are much more attractive.
As a result of the convenience and additional safety of these retail outlets, Chinese consumers are changing their buying habits, but domestic producers are catching up. Nevertheless, most large domestic operations sell their produce to restaurant chains and other catering outlets.
Hypermarkets tend to be friendlier towards multinationals, being multinationals themselves. Additionally, international brand recognition and modern management techniques help foreign producers to develop relationships' with hypermarkets. The sector is dominated by US giant Walmart, France's Carrefour and Germany's Metro.
According to a USDA Foreign Agricultural Service 2006 report, international retailers account for more than 67 outlets in Shanghai alone, with 76% of the sector's combined Yuan 21.4 billion in sales.
Tyson's Zhu continues: "It is hard for foreign companies to do business in China's wholesale sectors because price is the key competitive factor there. However, in the retail sector, with the held of advanced technology and brand names, foreign companies can attract more wealthy consumers who pay more attention to high quality and reputation and less to price."
At the start of last year, Walmart was thought to have 227 outlets in China, including 121 supercenters and 101 Trust-Marts. Also at the beginning of 2009, Carrefour opened its 135th store in China, while by the end of 2008, Metro was thought to have 38 outlets in China.
Integration
Foreign investors have developed vertically-integrated supply chains in China's animal husbandry industry to lower production costs and take advantage of favourable government policies for large-scale operations.
AgFeed vice president Zhou Feng comments: "Developing a vertically integrated chain is our long-term strategy. As a first step, over the next few years, we will focus on our integrated feed to hog production model."
After purchasing the Jiangxi-based Lushan breeder hog farm in 2007, AgFeed, China's biggest premix feed producer, continued investing in 29 commercial hog farms located in Jiangxi, Shanghai, Hainan, Guangxi and Fujian provinces.
AgFeed's broadened commercial hog farm direct sales channels drove its premix feed sales to a new high of $12.22 million in the second quarter of 2008, compared with $6.89 million in the second quarter of 2007, an inrease of 77%. As a result, the company exceeded its planned 25% annual premix sales growth target.
The company was able to purchase raw materials at better prices due to the larger scale of its operations. Its increased economies of scale resulted in approximately a 4.8% dope in overall raw material input costs.
The Chinese government is trying to promote consolidation through tax breaks and subsidies.
AgFeed's Zhou explains: "In China, premix feed production is exempt from value added tax, and hog production is exempt from income tax. Additionally, to ensure adequate pork supplies, the government provides subsidies to large-scale hog operations."