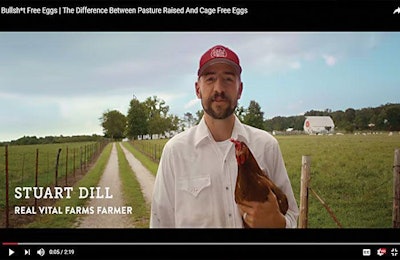 An online video released by pasture-raised egg producer Vital Farms purports to tell the difference between pasture-raised and cage-free eggs. A commonly used vulgarity to describe bovine feces is "bleeped out" when it is used over and over to describe eggs produced in cage-free barns, or the pasture-raised eggs which are said to be bovine-feces free.
No cage-free hens are shown in the video, but the one square foot of floor space provided per hen in many cage-free houses is depicted as a wooden box of that size. According to Stuart Dill, Vital Farms producer, "Cage-free farms are just big cramped warehouses ... where the hens spend their entire lives rising and shining to some industrial-grade light bulb."
This video provides a good example of how marketing claims can distort reality and potentially confuse consumers. It would be just as accurate for a cage-free egg producer to make a video showing the comfortable and safe environment provided to hens inside a cage-free house. The farmer could then talk about predators killing pasture-raised hens or how the pasture area is pretty barren of vegetation and hens during the cold winter months.
Unfortunately, these videos wind up confusing as many people as they amuse. Consumers need to be educated about what the choices for hen housing really entail. Footage filmed on real farms with honest dialogue is needed, not silly disparaging commentary and fanciful farm scenes.
The vast majority of eggs purchased at retail in the U.S. are cage produced. The supply of cage-free eggs has outstripped the demand. Cal-Maine Foods announced recently that is was adjusting its cage-free production to fit demand.
If consumer choice is going to be maintained in the supermarket egg case, then it will need to be informed choice. I'd hate to think that bovine feces would be what determined the future of hen housing.
Comprehensive resource for cage-free eggs available
A new collection of exclusive articles, blogs and infographics on Cage-free Eggs and Consumer Trust in the Poultry Industry, written by trusted WATT Global Media editors and industry experts will equip egg producers and marketers with information to help them make critical business decisions. Purchase your copy.