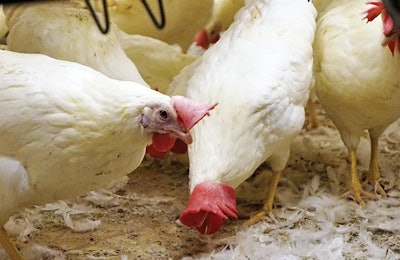 Ventilation and management are key to providing birds with an environment that they can thrive in. Eileen Fabian (Wheeler), professor of agricultural engineering at Penn State University explained three important factors for running a successful ventilation system in a cage-free house during the Egg Industry Issues Forum Virtual Presentations, "Cage-free ventilation modeling for bird comfort and reducing disease spread."
Fabian explained that in a recent study she conducted, specific to cold environment cage-free houses, she found that these three areas need attention, especially when trying to minimize disease spread.
1. Prioritize inlets
"We need engineered designs, particularly when moving air through spaces that have quite a bit of obstruction." she said. She further explained that considerations about where the inlets are placed need to be made. The location and direction that the fresh incoming air jet faces matters. "We want to locate it where we need it to have the performance in the house and flow the direction of that fresh air," she said.
2. Conditions at bird level are important
"Conditions at bird level are most important for the floor raised hens, they were below knee level of course, like a broiler house or a breeder house and we can get some ventilation help from those industries and we have," she said.
She went on to explain that the floor conditions as it pertained to the ventilation system in the house used for the study were actually pretty good. Her project builders said that it worked out because the ventilation systems have had some proof of concept in the European systems where they've been utilized successfully longer.
"But we do have more obstructions in those hen houses than we do in the floor raised, of course. And then the challenge in any of these floor raised hen houses is that the uneven bird distribution and the heat that comes off that," she said.
3. Fan location of the exhaust to prevent disease spread
"Fan location exhaust has impact on disease spread," she said. The airflow path from the inlet to exhaust dose seem to dictate some of the spread of pathogens, she explained. "The center house exhausting to decrease contamination spread within the house and a high exhaust decrease contamination to adjacent buildings," said Fabian.
Going forward
Fabian explained that going forward it is important for poultry farm managers to remember that ventilation is a system and if you change one thing, you must change the whole thing.