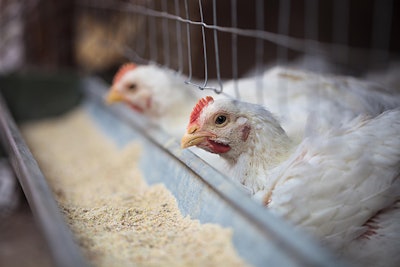 The largest egg producer in Ukraine said 3 million hens could starve to death as war persists in the country.
UkrLandFarming, parent company of egg producer Avangardco, told Bloomberg News said there is a serious risk that 3 million chickens at its facility in Kherson could die from hunger, because shelling by the Russian military was keeping feed deliveries away.
Without those hens, national egg production in Ukraine could be reduced by about one sixth.
Avangardco, according to the Poultry International Top Companies Survey, is the largest egg producer in Ukraine, the second largest in Europe and the 12th largest in Europe. During the past year, it had a flock of 13.3 hens.
Websites for Avangardco and UkrLandFarming are both operational, but no recent updates appear to have been made. There also appear to be no new updates to the website of OvoStar Union, Ukraine's second largest egg producer.
MHP, Ukraine's largest broiler producer, suspended its website operations last week, citing fears of cyberattacks from Russia.
Balticovo offers help
Latvian egg producer Balticovo AS, in a LinkedIn post, said it was offering its support for the people of Ukraine through the donation of more than 140,000 eggs.
Those eggs were to be initially delivered to Poland, where the eggs would be loaded onto a special train to Mariupol in Ukraine.
Balticovo, according to the WATTPoultry.com Top Companies Database, has been in operation since 1972, and is one of the largest producers of eggs and egg products in Northern Europe, with its hens laying more than 600 million eggs per year. The company's products are sold through retail and foodservice in Latvia, and the majority—about 70%—are exported to several European Union countries and other countries. It offers cage-laid, barn-laid, free-range and organic eggs. The company also produces 100,000 metric tons of feed per year as an integrator.