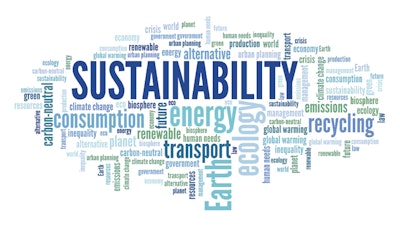 At the urging of consumers, poultry retailers, foodservice and producers have set net zero goals to reduce greenhouse gas emissions and minimize their carbon footprint. Creating a net zero poultry supply chain will require partnerships and buy-in from all key stakeholders. How can this be achieved?
During "Net zero and the future of sustainable poultry production," a panel discussion recorded by WATTPoultry.com and Evonik Animal Nutrition at the 2023 International Production & Processing Expo (IPPE), a trio of industry experts discussed the things poultry producers can do to accelerate net zero and other sustainability goals.
The panelists were:
Andy Rojeski, head of strategy, investor relations and Net Zero programs, Pilgrim's
Faazi Adam, director of sustainability, animal nutrition line, Evonik
Lara Moody, executive director of IFEEDER
Terrence O'Keefe, content director, WATT Global Media, moderated the talk.
Terrence O'Keefe: Right now, we have two distinct markets for crops in the United States when we're talking about row crops and grains, like corn and soybean meal. And you might even say we have three markets where we have GMO, we have non-GMO, we have organic — as organic poultry production has increased, there have been times where those feedstuffs are hard to find.
When you're talking about partnerships, are we going to have contracts with crop farmers to use certain practices to produce the feedstuffs?
Andy Rojeski: I think that's one option. I think we need to recognize that there's going to be a variety of different tools in terms of changing behaviors, in terms of how we structure those agreements.
Some could take the path of more activity-based outcomes. Here's what I want you to do, and if you do it, here's your incentive. On the flip side, it could be more performance-based.
I think that the key thing as we go forward is to demonstrate a longer-term horizon to go ahead and see some of the benefits that are in place. To that end, what I'd expect to see is we'd get better tools in terms of collecting the data to understand how things changed and why it's changed for the better. Or if there's a way where we could go ahead and make it better, let's go ahead and make sure we have that information.
I think the final thing is communicating that progress. Not just what's happening in the farming community, but so that when someone shows up at it grocery store and says, "look, here's what it is, here's what it means and here's what it took to get there. I understand why we might need to go and pay more, given all the work and effort that's been involved and how it helps not only the business, but the world in general."
Faazi Adam: That was a really good point that you just made and it's something that I'd really like to pick up on, Andy, because I think it's really, really important that these partnerships extend as far downstream as possible. At the moment, it's very difficult to get price premiums for all of the sustainability improvements that we're making in further upstream in the supply chain.
We do need to create some sort of supportive business environment where the cost of those improvements is shared equally throughout the value chain. That means talking to retailers who are buying the products. It means engaging consumers on why we need to invest in more sustainable food. It means engaging policymakers on why this is a long term policy issue as well. It's much much broader than just within the feed farming industry.