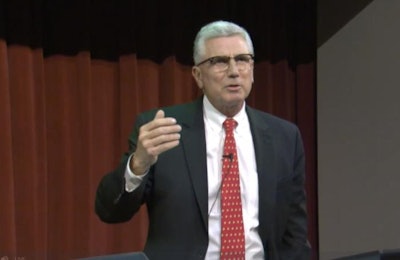 After a successful and storied career with Tyson Foods, Donnie Smith, the company's former president and CEO, had more than earned the right to retire and spend his time paying attention to other interests.
However, after spending his life in a role where he helped feed the world, his desire to do that hasn't changed. But the focus of that desire has.
Smith, who spoke recently at a Heuermann Lecture at the University of Nebraska-Lincoln, talked about the continual challenge of feeding a growing global population. He asked those in attendance what they are doing to address that challenge.
Smith, who retired from Tyson at the conclusion of 2016, admitted that when he once asked himself that question: "My answer was a little hollow. It kind of haunted me."
But Smith, a man of faith who has long advocated for servant leadership, said, "Then God ignited a fire in my soul around what I could do to take all of those years of Tyson experience and actually try to make a difference."
The Rwanda connection
Smith told of the time he met Dale Dawson, the founder of Bridge2Rwanda, an organization Dawson formed in 2007 to help expand Rwanda's global network of friends to encourage foreign direct investment and to create opportunities for Rwandan students to study abroad, and use what they have learned to make a difference in their home country.
Prior to meeting Dawson and traveling to Rwanda with him, Smith and his wife Terry had been considering forming a family foundation that would be involved in international agriculture.
"On that trip to Rwanda, it became clear to me where I was to be involved and how," Smith said.
Developing African agriculture
Smith said initially, he thought it would be a good idea to build a demonstration farm in Rwanda. However, the country's minister of agriculture told him there were already plenty of those, and those weren't really what was needed. She wanted a feed mill.
Rwanda, which has a population of about 11 million, did not have a commercial feed mill. He pointed out to lecture attendees that most Nebraskans have never lived a day where they didn't have the opportunity to go to the local farmers' cooperative to pick up a bag of feed for their animals. That wasn't the case in Rwanda in 2012.
Smith -- who, along with Terry, would go on to form the African Sustainable Agriculture Project (ASAP) Foundation -- was still at the helm at Tyson Foods at the time of the visit, but agreed that it would be a good idea to develop a feed mill through charitable efforts.
Through the ASAP foundation, Rwanda's first commercial feed mill opened in 2014.
But the efforts in Rwanda didn't stop there. Smith and his foundation were also involved in the development of a 10,000-hen layer farm, which supports OneEgg, a nonprofit organization which has the mission to give an egg a day to preschool students in underdeveloped countries such as Rwanda, Mozambique, Uganda and Haiti.
With assistance from USAID and the University of Tennessee Institute of Agriculture, ASAP also developed a broiler farming project. Under the project, farmers are given a chicken coop and needed equipment, and are helped to obtain a microloan that will help them meet recurring expenses such as feed and chicks. They are also given help in marketing their chickens. The eventual goal of this project is to help Rwandan farmers double their income.
The future
Smith knows there are more things that can be done to help advance agriculture in Rwanda and in Africa. He said he has been in talks with the Buffet Foundation to help with a project that would help farmers get quality feeds on a more timely basis.
And, as more needs are discovered, it seems Smith is more than interested in seeing what can be done to meet them.
"I'm going to spend the rest of my life and/or my kids' fortune developing the chicken business in Africa," Smith said. "(Presently,) it's about like the chicken business was in the 1950s and 60s here. I've seen the end. I know how this movie ends. We just need to help them get from Point A to Point B. It's not about creating new widgets. We've got all the stuff we need. We've just got to go implement it there and help create demand," he said.