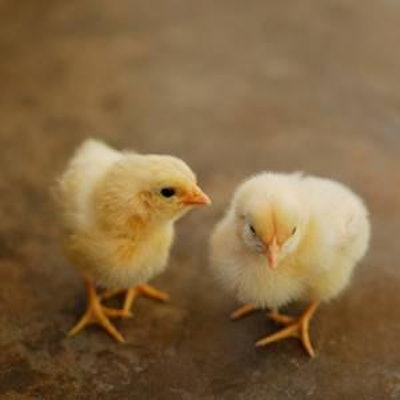 How do you get more nutritive and economic value out of your current and alternative ingredients? This is a common topic for poultry nutritionists in today's high feed cost environment. With a volatile high priced commodity market, getting more from less has become the number one goal.
New research presented recently at the 2012 International Poultry Scientific Forum in Atlanta clustered around several re-occurring themes in the area of poultry nutrition: value of dried distillers grains with solubles in poultry diets; use of feed enzymes to improve nutritive value of poultry feed; optimization of grain particle size to improve feed digestion; and the importance of early life nutrition.
Oil and DDGS
Presentations and posters about the value of de-oiled DDGS as well as enzyme supplementation of poultry diets with high levels of DDGS were presented by students from the Universities of Nebraska, Georgia and Kentucky, respectively. The University of Nebraska research (Kreifels and Purdum, 2012) was conducted in laying hens, looking at the effects of low oil DDGS (20 percent of the ration) on feed intake and egg production. Three DDGS samples were tested: normal oil (11.2 percent), medium (7.30 percent), or low (5.62 percent) oil and compared to a diet with no DDGS. Despite the lower levels of oil in DDGS, hens consumed the same amount of feed/day and produced equal numbers of eggs.
Since the diets used in this research had high metabolizable energy levels, it was theorized that the low oil DDGS only lowered overall dietary ME by 10 kcal, thus not having an extreme effect on total energy available to the hen. University of Georgia research (Guney et al., 2012) reported an average oil value of 10 low oil DDGS samples to be 7.6 percent compared to a normal value of 9 percent. They also reported that the protein content of low oil DDGS was slightly higher (27.6 percent) than that found in normal DDGS (27 percent).
Leghorn hens
Research from the University of Kentucky (Quant et al., 2012a) fed 0 percent, 15 percent or 30 percent DDGS with or without Allzyme SSF enzymes for a 60-week production cycle in white and brown Leghorn hens. In the white leghorn hens, they reported that eggs from hens fed 30 percent DDGS and Allzyme SSF had improved albumen Haugh unit values compared to other treatments. There were no other significant effects of feeding such high levels of DDGS to white leghorn hens; however, several negative effects of feeding high levels of DDGS to brown leghorn hens were observed by the same authors (Quant et al., 2012b). Adding 15 percent to 30 percent DDGS to brown leghorn diets caused a decrease in shell weight and shell breaking strength, which was alleviated by adding Allzyme SSF to the 15 percent DDGS diets. Brown hen body weight was lower in all diets containing 15 percent or 30 percent DDGS regardless of enzyme supplementation. The authors concluded that the detrimental effect of DDGS on brown layer egg shell quality was alleviated by the addition of Allzyme SSF.
Researchers at the University of Minnesota (Farahat et al., 2012) fed turkeys a combination of 0 percent or 20 percent DDGS, with or without 10 percent canola meal, in combinations with different levels of dietary Cl (.22 percent, .32 percent or .42 percent) from 2-14 weeks of age. The chloride was fed to help balance the positive electrolyte balance in diets high in DDGS. Their results showed no differences in body weight, but did show higher feed intake (6 percent) and feed efficiency in turkeys on diets with DDGS, with and without canola meal. Litter moisture also increased in pens with turkeys fed DDGS (6.5 percent) and DDGS plus Canola Meal (8.0 percent), compared to the 0 percent DDGS control diet. The authors recommended that attention be paid to dietary electrolyte balance and chloride level during incorporation of DDGS with canola meal in turkey diets and that Cl levels greater than .22 percent can be detrimental to feed efficiency.
Feed enzymes
The second common theme of research presented at the International Scientific Forum was the efficacy of feed enzymes in poultry rations. Many of the papers presented investigated phytase and carbohydrase activities in the presence of supplemental proteases as well as the value of carbohydrase combinations. Klein et al. (2012) from Texas A & M University tested a mannanase (Hemicel-L) and a cocktail NSPase (Enspria) alone and in combination to broilers in a negative control ration formulated with 130 kcal/kg less energy (ME) than the positive control rations.
Their results indicate that either enzyme alone did not return body weight gain to normal, but the additive effects of the two enzymes combined did restore body weight gain to the normal diets levels of growth. Dr. Gene Pesti, from the University of Georgia, gave a succinct economic evaluation of enzyme supplementation to broiler diets in his presentation (Tahir, et al., 2012). In their study, they fed Hostazyme X or Avizyme 1505 to broiler chickens in replacement of 30 kcal/lb ME in the negative control rations compared to positive control rations with no enzymes and normal ME levels. Based on their production results, they estimated between $7.02 - $17.64/ton feed savings adding Hostazyme to the negative control diet dependent on feed costs (a range of $200 to $400/ton) and broiler market body weight (4-8 lbs).
When adding Avizyme 1505 to the negative control diet, the value of feed savings ranged from $3.94 to $9.96/ton. Broilers fed Avizyme 1505 also weighed more, and the value of extra meat from birds fed Avizyme ranged from $11.49/ton for 6-lb. broilers selling for $.68/lb to $18.51/ton for 8-lb. broilers selling for $1.00/lb. The value of more sellable product from feeding enzymes was two to three times greater than feed savings alone.
Feed size
North Carolina State University researchers (Stark, Brake and Ferket) presented several papers on the topic of fine versus coarse roller mill ground corn in broiler diets. They compared feeding all fine (400 microns) hammermill ground corn versus a 50:50 blend of fine: coarse roller mill ground corn (>1350 microns) in the diets of broiler chickens. They found that the coarse corn combination decreased feed intake in two studies (Xu et al., 2012 and Stark et al., 2012) resulting in improved feed conversion and a decreased mortality rate. Excreta N was also reduced when feeding the coarse corn combination.
Early life nutrition
Early life nutrition for broiler chicka was the topic of the keynote address presented by Dr. E. T. Moran, professor emeritus, Auburn University, at the conclusion of the forum. Dr. Moran presented a very comprehensive review of how the embryo uses egg yolk, albumen and shell nutrient reserves during embryogenesis and hatch. The first feed the chick is given needs to complement the eggs' depleted reserves, meaning the first diets should be high in essential fatty acids, phosphorus and simple amino acids (glycine, proline, glucosamine) in order to help the newly hatched chick transition to an exogenous source of nutrients that its immature digestive tract is prepared to utilize. Feeding a poor quality feed early on will have negative consequences for the remaining performance of the broiler chicken. Actual costs of a well fortified feed for only the first week of production are not that great given the chick will likely consume less than a pound of the feed.
In summary, technologies keep pushing the poultry nutritionist forward with new strategies to maximize nutrient value of basal ingredients such as corn, DDGS and soybean meal. Management and nutrition formulation are continually challenged to do more with less. Fortunate for the poultry industry, universities and suppliers continue to provide quality information and research to keep moving us forward in this challenging environment.