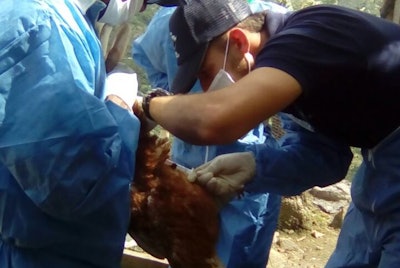 Colombia's poultry industry, as in many other Latin American countries, has been carrying a load on its shoulders for a long time: Newcastle disease. This animal health problem not only affects the country's efficiency and food security, but impedes the ability to export poultry products.
The good thing is that Colombia has not stood idly by. And by that, I mean that the National Poultry Producers Federation (Fenavi) and the Colombian Agricultural Institute (ICA) have been working hand in hand to solve this situation.
In Spring 2021, ICA published a resolution with the applicable requirements for all poultry stakeholders, with the expectation to receive comments and suggestions. At the same time, both entities started a vaccination program, particularly in those municipalities affected between 2017 and 2019. More than 450 technicians vaccinated a total of 201,000 backyard birds.
Basing efforts on the guidelines prescribed by the World Organization for Animal Health (OIE), the objective was to declare the whole country as free of reportable Newcastle disease. Not an easy task, which, besides vaccination, requires epidemiological surveillance, traceability and other efforts.
It is worth noting that not a single case of Newcastle disease has been reported in the country since September 2019. Up to last month (July 2021), only two cases were reported as "likely" being Newcastle disease, and only one was mildly virulent.
After more than 20 months with no disease and having met the requirements, Colombia self-declared as free of reportable Newcastle disease, recognized by the OIE. This is quite an achievement that is worth congratulating.
Now it is time for working on animal health diplomatic grounds with countries such as the U.S. and Japan, where Colombian chicken could be exported. Although Colombia is a net grain importer—corn comes from the U.S.—I am sure production costs allow them to do so. We wish Fenavi and the Colombian poultry producers the best to start exporting.
What do you think?