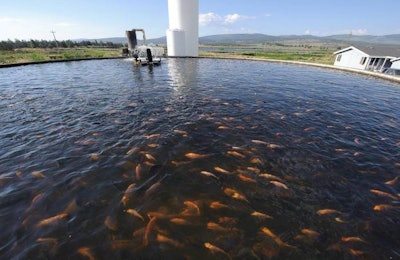 Aquaculture is a protein sector destined to compete head-on with poultry for share of the U.S. consumer's stomach due to its efficient feed conversion and healthy food status. It's a question of when seafood farmers will be able to commercialize and adopt technologies still under development to increase production and bring down prices.
Steven Hart, vice president of education and outreach, Global Aquaculture Alliance, charted the barriers the aquaculture industry must circumnavigate to boost competitiveness in a presentation at the 2015 Oilseed & Grain Trade Summit and afterwards spoke with WATT PoultryUSA in an interview.
The barriers to the aquaculture industry achieving the growth necessary to meet rising global demand and more successfully compete for U.S. consumer market share will only be addressed with capital investment and technology, according to Hart.
"The exciting frontier for aquaculture is for it to do the same thing that the poultry and hog industries have done – bring production indoors," he said.
More intensive production systems, he said, would allow the aquaculture industry to better deal with disease in aquatic stock, reduce the cost of production and attract capital for investment.
While the aquaculture industry foresees the need to double production every 10 years to keep up with world seafood demand, it is falling behind in that goal. Seafood famers worldwide are producing near capacity, and more intensive and efficient production systems are needed for aquaculture to keep pace with rising demand.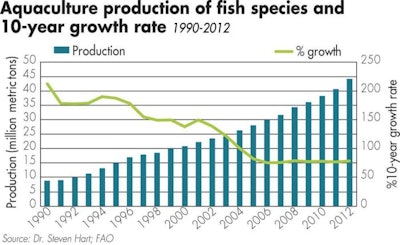 The aquaculture industry is falling short on its need to double production every 10 years in order to keep up with world seafood demand.
"Freshwater resources for aquaculture production are limited, especially in certain regions of the world like Africa," he explained. "Technological developments promise to permit expansion of productive capacity using existing freshwater resources. These allow recirculation of water with in-pond raceways that allow for two- to three-times increase in production in the ponds."
"The frontier everyone is looking at is recirculating aquaculture, which would move production indoors as has been done by the poultry and hog industries. This involves growing the animals in tanks and recirculating all of the water. That technology is being used for niche markets, but currently the cost of construction is too high to be competitive with commodity production. As the technology develops and matures and costs come down, and as fresh water capacity becomes more limiting, more of these types of facilities will come online," he said.
Financial institutions may not be comfortable lending to small undercapitalized aquaculture farms where fluctuations in weather and disease make production unpredictable. However, such financing would help address these very challenges, Hart said.
The most exciting opportunity for aquaculture, according to Hart, is in utilization of traditional selective breeding programs.
"The vast majority of the aquaculture industry uses wild fish for brood stock, and there is much room for improvement. Look at what happened with the chicken industry from 1940 until now to see what selective breeding has done for that industry. It is impressive how quickly broilers now get to market."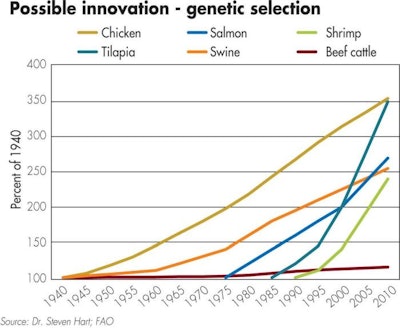 The aquaculture industry is hoping to reap similar benefits from genetic selection as the poultry industry has seen.
Like poultry, fish have a short generation time, he noted. Most fish species can be ready to breed within a year. Fish can rapidly be turned around and the growth rates are phenomenal.
Hart pointed to research conducted at the University of Idaho in collaboration with the U.S. Department of Agriculture (USDA) that showed that rainbow trout can be selectively bred to not only tolerate soybean meal in the diet but to grow better on soybeans than fishmeal. The typical trout diet might include 10 percent to 15 percent of soybean meal but the selected trout tolerated 46 percent soybean meal in the lab studies.
Currently, prices for fishmeal are higher than for soybean meal. Fishmeal prices have trended upward since the early 2000s and peaked in April 2010.
Since then, the premium for fishmeal has declined to an average of $958 per metric ton; notably above the historical average of $200 per metric ton. Fishmeal premiums are expected to increase as supplies continue to tighten and demand grows, according to Hart.
Aquaculture producers are hoping that the gene that controls soy tolerance can be identified in other marine fish species.
Consumption of seafood has pretty much flat-lined or been in decline in the U.S. over the last five years, but with continued investment in and adoption of new technology, aquaculture is positioned to be strong competition for poultry in the future.