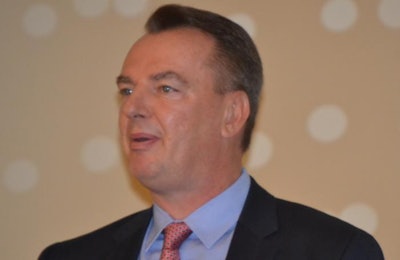 The use of antibiotics in livestock and poultry production is a common concern for consumers skeptical of the meat and poultry industries.
But as meat alternatives are being developed, one avenue that is being explored is laboratory-grown or cell-cultured meats.
If consumers have the perception that too many antibiotics are used to raise chickens, turkeys, hogs and cattle, they would certainly be turned off by the cell-cultured meat movement, said Dr. Frank Mitloehner, professor and air quality specialist in the department of animal science at University of California-Davis (UC-Davis).
While fielding questions after his presentation, "Getting it Right: Livestock's Environmental Story," on September 12 at the 2018 Liquid Feed Symposium in San Diego, California, Mitloehner was asked about his thoughts on lab-grown meats, and whether the livestock and poultry industries should be worried.
"I don't think lab-based meat alternatives will be a threat," he said.
Mitloehner, curious himself about the lab-grown meat movement, as well as the process in creating the product, said he spoke to a stem cell biologist who works in his department at UC-Davis, who has a specialty in that area.
Mitloehner's colleague told him that when working with cells, an extremely sterile environment is necessary. Mitloehner said he then asked him if antibiotics were used to create that sterile environment. His response, according to Mitloehner, was "They are floating in a lake of antibiotics. Every cell is totally surrounded by antibiotics during their entire growth period."
With that piece of knowledge alone, Mitloehner said he can't see consumers who are concerned about antimicrobial resistance embracing cell-cultured foods.
"Who in their right mind would eat that kind of stuff," he rhetorically asked attendees at symposium. "Would you feed that to your kids?"
The three-day 2018 Liquid Feed Symposium was hosted by the American Feed Industry Association (AFIA).