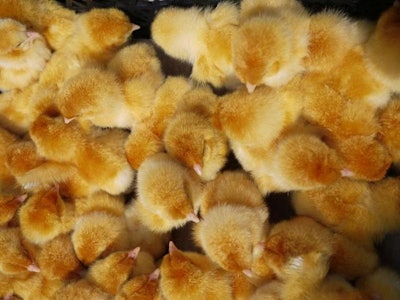 Mar-Jac Poultry's presence is still relatively new in Franklin County, Alabama. Yet, the company was Industry of the Year at the recent 2019 Franklin County Partnership Awards Banquet.
The company, which finished its first full year of operation in Franklin County in 2018 with a new feed mill and hatchery, reported the Franklin County Times.
"I would like to think it's our involvement with the community through our sponsoring of the Phil Campbell Hoedown and other things we've done to help in the community since we started building these two facilities up here," said Keith Martin, live operations. "We're a very community-minded company, and we're very grateful to be here in Franklin County. The community has been very welcoming and open to us, and we like to give back whenever possible."
About 70-75 people are employed at the facilities.
The feed mill produces the necessary feed to supply all Mar-Jac operations in Alabama, including 150 poultry growers across the state plus a few in northeast Mississippi. At the hatchery, Mar-Jac hatches all chicks that are eventually raised by Mar-Jac contract broiler growers. It is estimated that the hatchery produces 1.7-1.8 million chicks per week.
As the new facilities were being constructed, Alabama Gov. Kay Ivey hailed the projects, saying Mar-Jac will "put food on the tables for numerous families in northwest Alabama and will have a large economic impact on the area."
Martin said now that the feed mill and hatchery are in operation, the company is focusing on improving the exterior appearances so that instead of having an "under construction" look, people say, "Wow, that's really a well-kept facility."
Mar-Jac Poultry, according to the WATT PoultryUSA Top Poultry Companies rankings, is the 15th largest broiler company in the United States, having produced almost 15.9 million pounds of ready-to-cook chicken on a weekly basis in 2018. Mar-Jac Poultry includes two broiler companies: Mar-Jac Poultry Inc., which includes operations in Georgia, and Mar-Jac Poultry LLC, which includes operations in Alabama and Mississippi.