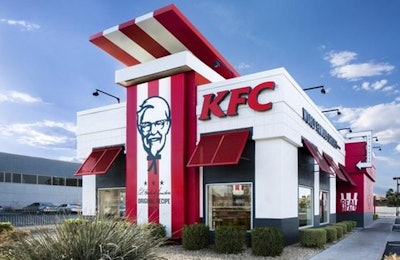 KFC Canada will partner with Chicken Farmers of Canada by featuring the Raised by a Canadian Farmer seal on its products, which demonstrates the commitment of restaurants and grocery retailers who source chicken raised to the highest standards of quality and care by Canadian farmers, of which 100% of KFC Canada's system supports.
The Raised by a Canadian Farmer seal not only represents where the chicken comes from, but also stands for a three-fold set of exacting standards: animal care, ensuring chicken health and welfare on farms; on-farm food safety, emphasizing cleanliness, safety and biosecurity on farms; and sustainability, committing to sustainability efforts and farm land preservation.
"KFC Canada stands behind its chicken quality and taste credentials and we're proud to serve chicken that Canadians trust and love, from our classic Original Recipe buckets to our boneless tenders," said Nivera Wallani, president and general manager, KFC Canada. "Featuring the Chicken Farmers of Canada Raised by a Canadian Farmer seal on our products demonstrates and reinforces not only our support for Canadian chicken farmers, but our commitment to serving chicken raised with industry-leading animal welfare, food safety and sustainability practices."
Canadians will begin to see the Raised by a Canadian Farmer seal on in-store packaging and signage at KFC locations across the country, as well as on KFC Canada's social media pages and website.
"The Raised by a Canadian Farmer brand is synonymous with origin and quality and is a symbol for the innovation, pride, and hard work that Canadian chicken farmers put in every day," said Benoît Fontaine, chair, Chicken Farmers of Canada. "For years, KFC Canada has demonstrated to the world that chicken partners throughout the Canadian value chain are committed to delivering on consumer expectations for food safety, animal care and sustainability excellence."
Chicken produced to certain standards
According to the Chicken Farmers of Canada's 2016 Sustainability Report, 80% of Canadians say they trust farmers. Additionally, 77% say they trust Canadian-raised chicken seals coming directly from farmers rather than manufactures or retailers. The Raised by a Canadian Farmer seal lets consumers know the chicken they're getting has been sourced from local farmers, and adheres to the following standards:
Animal care: Animal care is a mandatory program that demonstrates proper animal care throughout each step of the production cycle, from the birds' arrival in the barn including transportation and processing, to ensuring farmers adhere to strict antimicrobial strategies laid out by industry and the government.
On-farm food safety: On-farm food safety comprises animal health, cleanliness and safety throughout each step of the production cycle and sees farmers follow strict biosecurity measures to protect animal health and prevent flock infections from outside sources. These mandatory rules govern chicken farms from coast to coast and include top-notch requirements for biosecurity, disease prevention, feed, water management and testing, along with all the record keeping necessary to prove that farmers are adhering to the process.
Sustainability: Sustainable chicken production means protecting animal health and welfare, producing safe chicken, preserving the health of the land and of Canadian farms, and contributing to the Canadian economy by providing affordable food to Canadians through proper supply management.
"KFC Canada appreciates that Canadian consumers not only have a vested interest in where their food comes from, but the values in which a restaurant upholds," said Wallani. "KFC is famous for our taste, but we've equally always been dedicated to the chicken we serve. We're excited to partner with Chicken Farmers of Canada in the Raised by a Canadian Farmer branding program as it signifies the quality, passion and commitment of Canadian chicken farmers – values the Colonel himself exemplified in everything he did."