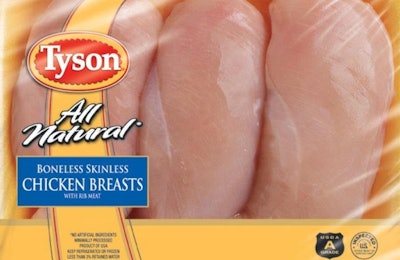 Tyson Foods entered a renegotiated agreement with JP Morgan Chase Bank that will provide Tyson with as much as $2.25 billion in credit through September 2026.
Details of the agreement were outlined in a securities filing, which can be found on the Tyson Foods Investor Relations webpage.
According to a report on the KATV website, the deal will require Tyson Foods to keep its gross earnings to consolidated interest expense ratio at 3.5 to 1 at the end of each fiscal quarter.
The filing also stated that Tyson Foods used cash on hand to repay all outstanding obligations under the company's existing term loan agreement, dated as of March 22, 2021.
The renegotiated deal comes at a time when Tyson Foods is settling antitrust lawsuits that allege Tyson participated in a conspiracy with other animal protein companies to drive up the price of meat and poultry. Tyson reportedly agreed last week to pay $42.5 million to settle complaints filed by some of its competitors, while Pilgrim's Pride and Mar-Jac Poultry also reportedly agreed to settlements of $44 million and $5.99 million, respectively.
In January, the company agreed to pay $221.5 million to settle all class claims related to allegations of collusion with other broiler producers.
In addition, Tyson Foods in July agreed to pay $1.75 million to settle claims in conspired with other turkey producers to inflate prices.
In these instances, Tyson Foods stated that it did not reach the settlements as an admission of guilt, but rather to be better able to focus on its business without the distraction of a lawsuit.
Tyson Foods has also been accused in lawsuits of conspiring with other pork producers.
Headquartered in Springdale, Arkansas, Tyson Foods is the largest broiler producer and fifth largest turkey producer in the United States. It is also a major producer of pork and beef products.