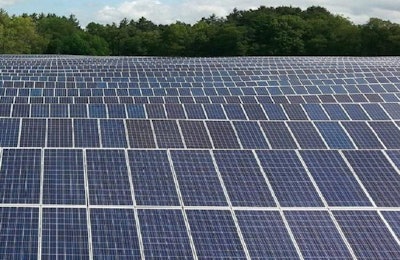 Allen Harim Foods has broken ground on a multi-million dollar solar project on a six-acre parcel of land near its poultry processing facility in Harbeson, Delaware.
"This project is in line with our strategic goals of environmental sustainability moving forward in Delaware," said Allen Harim CEO Steve Evans. "We are delighted that we are also going to help Delaware meet its green energy goals set forth in the Renewable Energy Portfolio Standard."
The company signed a 20-year lease agreement with developer SolarSense, an affiliate of Alternative Energy Development Group from Berwyn, Pennsylvania. The plans call for the installation of 1.57 MW of solar, which will produce 2.3 million kWh of power each year, and reduce carbon dioxide emissions by 1,616 metric tons per year. Allen Harim has agreed to purchase the power produced through the solar panels, and the system will be interconnected to Delmarva Power.
The energy produced by the solar panels, which when laid out will be about 4.5 football fields in length, will supply approximately 11 percent of the energy used at the Harbeson facility.
"This project is projected to save Allen Harim 16 percent in energy costs during the first year of operation, and contribute to Allen Harim's corporate environmental sustainability goals," said Chris Fraga, CEO of Alternative Energy Development Group.
The project will be owned and operated by Onyx Renewable Partners, L.P., a renewable energy company owned by funds managed by global investment giant Blackstone.
By law, energy suppliers in the state of Delaware have to purchase 25 percent of the power from renewable energy sources like solar and wind energy and specifically 3.5 percent from solar power.
Construction will begin in November. Local contractors and employees will be hired wherever possible, Fraga said. The project is expected to be operational within three months.
Allen Harim will be working with Alternative Energy Development Group over the coming months to review its energy usage at each of their facilities, looking for ways to reduce consumption, reduce energy supply costs, and to become more environmentally sustainable wherever possible.