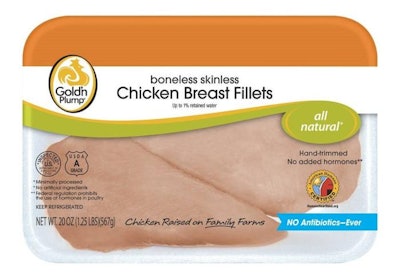 Pilgrim's has reached an agreement to acquire GNP Company in an all-cash transaction valued at $350 million. The proposed transaction is expected to close during the first quarter of 2017.
GNP Company, which produces chicken under the Gold'n Plump and Just BARE brands, is headquartered in St. Cloud, Minnesota. The acquisition would allow Pilgrim's to expand its production to new geographic areas.
"The Pilgrim's team is excited to combine the collective strengths of Pilgrim's Pride and GNP Company," Pilgrim's CEO Bill Lovette said in a press release. "GNP Company boasts outstanding state-of-the-art assets in geographic areas where Pilgrim's is not currently present, providing Pilgrim's the opportunity to expand our production and customer bases, while maintaining our high standards for quality service and great-tasting products."
GNP Company is owned by The Maschhoffs, a family company headquartered in Illinois that is primarily known as a pig producer. The Maschhoffs acquired GNP Company in late 2013, but continued to operate its pork production business and GNP Company as separate companies.
Companies embrace antibiotic-free chicken trend
The proposed acquisition is expected to further strengthen Pilgrim's position as a leader in antibiotic-free and organic chicken production.
Lovette, speaking during a quarterly earnings call in May, revealed that Pilgrim's was entering the organic chicken market as it was converting one of its complexes to produce USDA certified organic chicken. He added that once that conversion was completed, Pilgrim's would be responsible for about 20 percent of total organic production in the United States. He added that the company was also looking to increase its share of the U.S. antibiotic-free poultry market to more than 25 percent by the end of 2018.
GNP Company, meanwhile, said in February that its Gold'n Plump brand would transition completely to a no antibiotics ever (NAE) line by 2019. Its Just BARE brand is already raised without antibiotics.
Acquisition in line with Pilgrim's growth strategy
Lovette, in 2014, said mergers and acquisitions were being heavily considered as part of its growth plan. At the time, he said the size of the company was not as important as the potential value it would add for Pilgrim's shareholders.
"Today's announcement is a clear demonstration of Pilgrim's commitment to our growth strategy of disciplined acquisitions that enhance both our portfolio of value-added products and our ability to provide key customers with the high-quality products demanded by consumers," Lovette said in the press release. "We look forward to welcoming GNP Company's team members and family farmer partners to the Pilgrim's team as we continue to position Pilgrim's as the preferred choice of consumers and retail and foodservice partners across the country."
Pilgrim's expects to achieve approximately $20 million in annualized synergies, primarily from the optimization of production and distribution, and cost savings in purchasing, production, logistics and SG&A. In addition to operational synergies, the company anticipates capturing an estimated present value of approximately $28 million in tax savings.
According to the WATTAgNet Top Poultry Companies Database, Pilgrim's is the second largest broiler company in the United States, processing 141.67 million pounds of ready-to-cook chicken on a weekly basis in 2015. GNP Company is the 19th largest broiler company in the U.S., having processed 8.79 million pounds of ready-to-cook chicken on a weekly basis in 2015.
In contrast, Tyson Foods, the largest broiler company in the United States, processed 175.6 million pounds of ready-to-cook chicken per week in 2015.
Pilgrim's also has broiler operations in Mexico.